by Fred J. Calfior and Douglas W. Miller
| | |
| --- | --- |
| note: | Set ZOOM to "1.0" |
|   | Set Time to "13:00" |
"I should be the one treating you to Buffalo Burgers, but since you offered first, I accept! Well, sad to say, but this is the final fight we'll spend together today in the Los Angeles area. Can you swim in case we run out of fuel over the water? Only kidding, we've got plenty! Well, I'm getting hungry, so let's get the ATIS information on 125.6. My guess is we'll takeoff on runway 29L or my name isn't Professor Calfior!"
Instruments:
1) Tune COM to "125.6" (ATIS)
"TORRANCE AIRPORT, INFORMATION DELTA, 2000 ZULU WEATHER, SKY CLEAR, VISIBILITY SEVEN IN HAZE. TEMPERATURE 85, WIND 270 AT 10. ALTIMETER 29.94. RUNWAY 29 LEFT IS ACTIVE FOR ALL DEPARTURES TO THE SOUTH, OTHERWISE DEPARTURES AND LANDINGS ARE ON RUNWAY 29 RIGHT. ADVISE ON INITIAL CONTACT YOU HAVE INFORMATION DELTA."
"Now runway 29 left is pretty short - I guess that's relative if you're used to longer runways. Anyway, it's 3000 feet which is no problem for us. But I want you to always remember that computing takeoff distances is vital for each and every flight you accomplish. Never take it for granted that you'll make it. Besides, FARs require you to compute all takeoff distances. Well, let's set up the instruments before taxiing."
2) Set "Altimeter" and "DG"
3) Set XPDR to "1200" (VFR code)
4) Tune NAV 1 to "113.6" (LAX)
5) Set NAV 1 OBS to "170" in the upper window
6) Tune NAV 2 to "111.4" (SXC)
7) Set NAV 2 OBS to "150" in the upper window
8) Set the DME to "NAV 1" and "DIST"
9) Check CARB HEAT is "OFF"
10) Check GEAR "DOWN"
11) Turn STROBE "ON"
12) Check LIGHTS are "OFF"
"Since we're just about ready to taxi, build another habit pattern. See that wind sock over there? Be figuring out which way the wind is blowing as you begin taxiing and make your turns, so that you can set up your ailerons and yoke accordingly. We certainly don't want a gust to flip us on our side simply because we forgot this procedure!" Ground is on, uh, 120.9 - am I right? Sure I'm right!"
13) Tune COM to "120.9" (Ground)
You:
"TORRANCE GROUND, THIS IS CESSNA 13MIKE AT THE MID RAMP, READY TO TAXI WITH INFORMATION DELTA. SOUTHBOUND DEPARTURE."
Torrance Ground:
"13MIKE, TAXI TO RUNWAY 29 LEFT AND ENJOY YOUR BURGERS!"
You:
"13MIKE TAXIING."
TAXI -
"You are facing the taxiway with runway 29R (right) at your back. Make a left 90 degree turn, and taxi down to the runup area just short of the takeoff end of runway 29L (left). Face the aircraft toward the runway but hold short of the runway. We'll do our runup checks here." See Figure 4.1.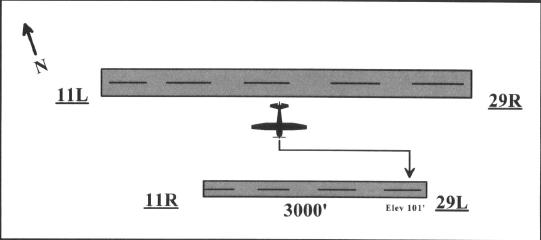 Figure 4.1. Taxi to runway 29L
RUNUP
1) Set brake (hold down to prevent aircraft from moving)
2) Advance power to about "1700" RPM
**      3) Select CARB HEAT "ON", record RPM drop______(5 pts)
4) Select CARB HEAT "OFF"
**      5) Select "LEFT" Mag, record RPM drop _______(5 pts)
6) Select "BOTH" Mags
**      7) Select "RIGHT" Mag, record RPM drop______(5 pts)
8) Select "BOTH" Mags
9) Reduce power to idle
10) Set FLAPS to first notch (10 degrees takeoff configuration)
"This is just too exciting! No matter how many times I fly out to Catalina Island, it's a pure joy each and every time! This is your first time, so I'm sure you'll be absolutely flabbergasted when you see how beautiful this fight is! I'll tell you something unique about the runway we'll be landing on when we get closer to it! Keep you guessing and wondering - that's my job! Let's activate the fight plan with Ground. "
You:
"TORRANCE GROUND, 13MIKE WOULD LIKE TO ACTIVATE ITS VFR FLIGHT PLAN TO AVALON AT THIS TIME."
Torrance Ground:
"13MIKE, YOUR FLIGHT PLAN IS ACTIVATED. SWITCH TO TOWER WHEN READY."
"My mouth is starting to water already for that burger! Hurry up! Switch to 124.0 and get me to the restaurant!"
11) Tune COM to "124.0" (Torrance Tower)
You:
"TORRANCE TOWER, CESSNA 13MIKE, READY FOR SOUTHBOUND DEPARTURE RUNWAY 29 LEFT."
Torrance Tower:
"13MIKE, YOU ARE CLEARED FOR TAKEOFF. MAINTAIN RUNWAY HEADING UNTIL AT LEAST 1100 FEET, THEN FLY AS FILED."
You:
"13MIKE CLEARED FOR TAKEOFF, STRAIGHT OUT DEPARTURE."
Table of Contents
Previous Section: Flight Scenario Four: Torrance to Avalon: Setup
Next Section: Flight Scenario Four: Torrance to Avalon: Flight