by Jonathan M. Stern
Obtaining Charts to Use with Flight Simulator
Navigation charts for IFR use (in the United States) are published primarily by two organizations: the U.S. Department of Commerce and Jeppesen Sanderson, Inc. Entire sets of these charts can be purchased from, amongst others, the Aircraft Owners and Pilots Association (800-USA-AOPA; 301-695-2000 for callers outside the United States) or Sporty's Pilot Shop (800-543-8633; 513-732-2411 for callers outside the United States). You should recognize, however, that the frequencies of NAVAIDS, the instrument procedures, and so on change over time. It is best, therefore, to correlate the Flight Simulator database to the charts being purchased. The best way that I know to accomplish this goal is to order charts at the same time that a revised database is created. And the only way that I know to do this is with John Trindle's Instrument Scenery Set.
The Instrument Scenery Set, or ISS, provides approach navigation aids, runways, weather reporting, and aircraft placement data for the entire United States and portions of Europe. By adding ISS to the standard Flight Simulator database, you add the ability to fly IFR between any pair of airports used for instrument flying in the United States.
ISS includes ILS, LOC, LDA, and SDF approaches, as well as associated marker beacons. Moreover, any VORs or NDBs missing from the Flight Simulator database are added.
ISS is distributed on the CompuServe FSForum as shareware. If you like the program and plan to use it, you are asked to send a modest fee to the author. The program was developed by John Trindle of T-Square Company. Because the FAA information used to create the program is divided into regions, T-Square produces the ISS software in a regional format, as reflected in Table 14.3.
TABLE 14.3 Regional Formats for ISS
Region
States Encompassed
NE-1
ME,NH,VT,RI,MA,CT
NE-2
NY,PA
NE-3
NJ,DE,MD,WV,DC,VA
SE-1
KY,TN,MS,AL
SE-2
NC,SC,GA
SE-3
FL,US Virgin Islands, Puerto Rico
EC-1
MI
EC-2
IN,OH
EC-3
WI,IL
NC-1
MN,ND,SD,IA
NC-2
MO,NE,KS
SC-1
OK,AR,LA
SC-2
TX
SW-1
NV,UT,CO,AZ,NM
SW-2
CA
NW-1
WA,OR,ID,MT,WY
ISS may be purchased in single regions or in sets. T-Square updates the ISS datasets approximately once every six months, with a mailing to registered users shortly thereafter. On average, data on ISS is three months old at the time it is shipped. Registered users receive updates for two years following their payment.
An alternative to purchasing instrument approach procedure charts is through the use of the Final Approach program and CompuServe or a bulletin board on which Final Approach charts are traded. Final Approach, created by Georges Lorsche of Luxembourg, is a Windows-based program that easily generates and stores instrument approach charts for airports anywhere in the World.
Final Approach is distributed on CompuServe's Flight Simulation Forum. Users who value the program and wish to exploit all of its features are asked to send a relatively small fee to Mr. Lorsche.
User-created Final Approach charts are distributed free of charge within CompuServe, Figure 14.7 shows a profile view of a chart being prepared.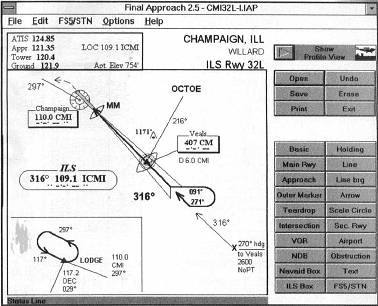 Figure 14.5. The plan view portion of the chart for the ILS approach to Champaign, Illinois, is being developed.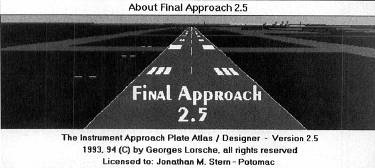 Figure 14.6. For a small fee. Users are provided with a license number that, when entered in the program, enables all of Final Approach's features.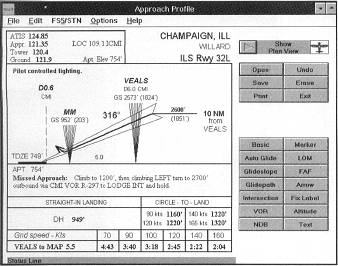 Figure 14.7. Here, the profile view of the chart can be prepared.
I asked Georges Lorsche to describe the genesis of the Final Approach program, and he was kind enough to do so:
I did most of my flying with an early version of Flight Simulator. The CGA graphics of the time provided me with unfavorable visual conditions on virtually every flight. I felt that I really needed printed approach charts, which would allow safe landings in any conditions. At the time, I did not know any real-world pilots, and buying original plate collections seemed prohibitively expensive.
This was reason enough to write a program dedicated to designing and printing realistic approach plates for use with Flight Simulator. I called it Final Approach and used it together with some similarly Flight Simulator-addicted friends. We eventually created and exchanged new plates for our common benefit.
After having joined CompuServe in 1992, 1 uploaded Final Approach as shareware to the FSForum. All Hell broke loose. The download counters started spinning wildly and users who discussed the program with me requested more and more features. Quickly, Final Approach became something like a second job for me. Today, registered users from 27 countries work with the program. Many of them have designed approach plates for their home or regional airports. There are currently more than 750 approach plates available in the FSForum libraries (and the list keeps growing daily).
Several publishers offered to release commercial versions of the Final Approach program. Sybex Publishing commercialized a German version in 1993, while Colorado Technologies from Paris bought the rights to all other international versions and will release an English, French, Spanish, and Italian version.
With Final Approach, I've come to know two very different kinds of users: most use the program as an atlas, which allows them to have the plates they need for their simulator flying right at hand when they need them. They can print the plates, scribble on them, add data specific to Flight Simulator, edit frequencies as the simulator requires, and even transfer the IAF position to a Flight Simulator situation file to fly and repeat the approach as often as they like. Others have sound pleasure in designing plates of their own, often bundling them with scenery that they create, so that users of their work have everything needed to fly the scenery in one complete package. The plates take very little disk space around 1K each) and distribution is free, so distributing plates through bulletin board systems or online systems is very easy.
For further information on Final Approach, contact Georges Lorsche by mail:
5, rue des Violettes
L-3447 Dudelange
Luxembourg
Europe
By CompuServe:
Georges Lorsche 100041,211
By Internet:
100041.211@compuserve.com
Learning how to read and use IAP charts requires practice. You will have an opportunity to practice as you work through Chapter 18, "Instrument Approach Procedures."
Table of Contents
Previous Section: Airport Sketch
Next Section: IFR Flight Planning