by Richard Sheffield
Tutorial 3: Low and Slow/High and Fast
The purpose of this lesson is to familiarize yourself with the various speed capabilities of your aircraft. To accomplish this, we'll do some IFR flying. (No, not Instrument Flight Rules, but the IFR flying real helicopter pilots use—I Follow Roads.)
Set your INS cursor over the crossroads indicated on the map.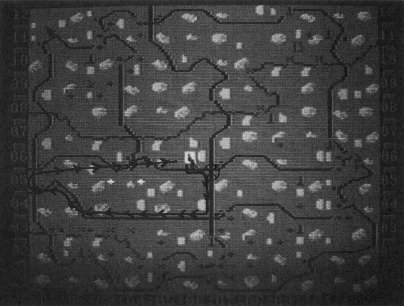 Figure 6-4. Tutorial Map 3
Take off, head for the INS cursor, and make your speed 50–60 knots. At this speed, you'll continue to gain altitude unless you adjust the collective. One press on the Down Fast key should put you in level flight. Make your altitude 100 feet.

When you come to the crossroads, turn right and follow the road south. Maintain your speed at 60 knots and try to make your altitude 60–80 feet using the collective. When adjusting the collective at low altitude, it's best to use the Slow Up and Slow Down keys until you're familiar with the aircraft.

Continue to follow the roads using the course indicated on Tutorial Map 3. Attempt to maintain 60 feet at 60 knots. You may have to constantly adjust the collective as level flight at this altitude is difficult. It may be necessary to drift up to 70 feet and adjust the collective down a little and then drift down to 50 feet and adjust it up and repeat the process.

Once you reach the hut at the third crossroads, you'll be getting low on fuel. Set the INS cursor back over the base. Hit the Up Fast key once and turn toward the base while gaining altitude. When you reach 200 feet, pitch the nose down to pick up speed and get into level flight. Once in level flight, pitch the nose down slightly. Note that you'll start to lose altitude but gain speed. Now hit the Up Slow collective key until you're back in level flight, now at a higher speed. Repeat this process until you're in level flight at 150 knots. This is about the maximum speed for your aircraft with a full weapons load. If you fire or jettison your weapons, you can fly a little faster.

Once the base comes into sight, slow down to 100 knots and land as usual.
Table of Contents
Previous Section: Tutorial 2: Turning
Next Section: Tutorial 4: Gun Practice