by Fred J. Calfior and Douglas W. Miller
| | |
| --- | --- |
| note: | Set ZOOM to "1.0" |
|   | Set TIME to "12:30" |
"We could almost make believe we're a courier service dropping packages and parcels off from airport to airport, the way we've been touring the LA area! Again, thank you Professor Miller for your outstanding efficiency. I'm Professor Calfior and am I ever looking forward to this special puddle jump into the Los Angeles TCA corridor. Get your ATIS information on 119.15. Nah! Not your nav panel -your comm panel!"
Instruments:
1) Tune COM to "119.15" (ATIS)
"SANTA MONICA MUNICIPAL, INFORMATION CHARLIE, 1900 ZULU WEATHER, SKY CLEAR, VISIBILITY NINE. TEMPERATURE 89, WIND 270 AT 10. ALTIMETER 29.93. LANDING AND DEPARTING RUNWAY 21. ADVISE ON INITIAL CONTACT YOU HAVE INFORMATION CHARLIE."
"Sometimes in the early morning hours, ATIS will give you a dew point temperature because of its closeness to the actual temperature, which in turn brings fog. So we've landed on 21, and we now will takeoff on 21. It's getting pretty personal and familiar, isn't it? You go ahead and set up the instrument panel while I open this door and get my seat belt unwedged!"
2) Set "Altimeter"
3) Set "DG"
4) Set XPDR to "1200" (VFR code)
5) Tune NAV 1 to "113.1" (VNY)
6) Set NAV 1 OBS to "140" in the upper window
7) Tune NAV 2 to "113.6" (LAX)
8) Set NAV 2 OBS to "010" in the upper window
9) Set the DME to "NAV 1" and "DIST"
10) Check CARB HEAT is "OFF"
11) Check GEAR "DOWN"
12) Turn STROBE "ON"
13) Check LIGHTS are "OFF"
"Once I swore the airplane was coming apart in the air, when this loud thumping noise kept on occurring. Then I realized that a portion of the seat belt strap had gotten caught outside when the door was shut, and the wind was whipping it all over tarnation! Well, I'm sure Ground is chomping at the bit to hear from us, so let's talk to them on 121.9, shall we?!"
14) Tune COM to "121.9" (Ground)
You:
"SANTA MONICA GROUND, THIS IS CESSNA 13MIKE AT THE TERMINAL, READY TO TAXI TO RUNWAY 21 WITH INFORMATION CHARLIE."
Santa Monica Ground:
"13MIKE, TAXI TO RUNWAY 21 FOLLOWING THE BEECHCRAFT BONANZA PASSING YOU FROM THE RIGHT."
You:
"13MIKE."
TAXI -
"You are facing the taxiway with the runway to your back. Okay, there goes that Bonanza! Make a left 90 degree turn and taxi down to the runup area near the beginning of the threshold area of runway 21. Face the aircraft toward the runway, but not on the runway to perform your runup." See Figure 3.1.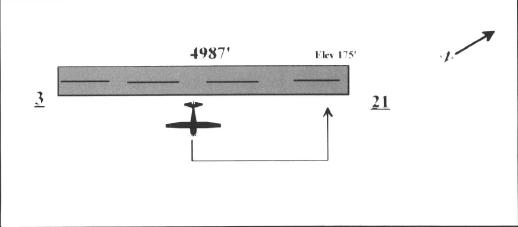 Figure 3.1. Taxi to Santa Monica's runway 21.
RUN UP -
1) Set brake (hold down to prevent aircraft from moving)
2) Advance power to about "1900" RPM
**      3) Select CARB HEAT "ON", record RPM drop_____(5 pts)
4) Select CARB HEAT "OFF"
**      5) Select "LEFT" Mag, record RPM drop_____(5 pts)
6) Select "BOTH" Mags
**      7) Select "RIGHT" Mag, record RPM drop_____(5 pts)
8) Select "BOTH" Mags
9) Reduce power to idle
10) Set FLAPS to first notch (10 degrees takeoff configuration)
"I've taken the liberty to scan over your fight plan and it looks very professional, neat, and well organized. Go ahead and activate your flight plan before we switch over to Tower."
You:
"SANTA MONICA GROUND, 13MIKE WOULD LIKE TO ACTIVATE ITS VFR FLIGHT PLAN TO TORRANCE NOW."
Santa Monica Ground:
"13MIKE, YOUR VFR FLIGHT PLAN IS ACTIVATED. ENJOY YOUR FLIGHT."
You:
"13MIKE. THANKS FOR YOUR HELP."
"If you feel comfortable and ready to go, have at it! Wait, wait!!! Get your clearance from Tower on 120.1! I know you're excited, but you've got to play this 'Mother, may I' game first!"
11) Tune COM to "120.1" (Tower)
You:
"SANTA MONICA TOWER, CESSNA 13MIKE, READY ON RUNWAY 21 FOR RIGHT DOWNWIND DEPARTURE."
Santa Monica Tower:
"13MIKE, YOU ARE CLEARED FOR TAKEOFF, RIGHT DOWNWIND DEPARTURE APPROVED."
You:
"13MIKE IS CLEARED FOR TAKEOFF."
Table of Contents
Previous Section: Flight Scenario Three: Santa Monica to Torrance: Setup
Next Section: Flight Scenario Three: Santa Monica to Torrance: Flight