by Fred J. Calfior and Douglas W. Miller
| | |
| --- | --- |
| note: | Set ZOOM to "1.0" |
|   | Set TIME to "12:00" |
"Ah, lunch just hit the spot! So we're heading south, are we? I'm Professor Calfior. If you're writing me a check, call me Fred! I'm your friend indeed!!! To get out of here, we need to know some things from our neighboring ATIS recording on 125.85. Dial it into the communications panel, and listen to the informational melody of wisdom and knowledge from those in the know!"
Instruments:
1) Tune COM to "125.85" (AT] S)
"AURORA MUNICIPAL, INFORMATION JULIETTE, 1700 ZULU WEATHER, SKY CLEAR WITH A FEW ISOLATED AND SCATTERED SHOWERS TO THE NORTHWEST. TEMPERATURE 85, WIND 020 AT 10. ALTIMETER 29.98. LANDING AND DEPARTING RUNWAY 36 OR RUNWAY 9 FOR INSTRUMENT APPROACH PROCEDURES. STATE DESIRED DIRECTION OF DEPARTURE TO GROUND CONTROL. ADVISE ON INITIAL CONTACT YOU HAVE INFORMATION JULIETTE."
"Even though runway 9 is longer and better looking, we'll jump out of here from runway 36 for convenience sake. Shall we handle the instrument setup before we roll? Yeah, I think that's a good idea too, just because I said it! When you're an instructor, you can say that too, with pure egotistical satisfaction and questionable bravado!!!"
2) Set "Altimeter" and set "DG"
3) Set XPDR to "1200" (VFR code)
4) Tune NAV 1 to "112.3" (JOT)
5) Set NAV 1 OBS to "290" in the upper window
6) Tune NAV 2 to "109.6" (PNT)
7) Set NAV 2 OBS to "168" in the upper window
8) Set the DME to "NAV 1" and "DIST"
9) Check CARB HEAT is "OFF"
10) Check GEAR "DOWN"
11) Turn STROBE "ON"
12) Check LIGHTS are "OFF"
"Now when you talk to Aurora Ground on 121.7, make sure they know our intentions are to taxi to runway 36, and that we want a left downwind departure. Then we'll be flying exactly as we've got planned. If they assign us any other way, that's the life of a pilot - we'll figure it out!!!"
13) Tune COM to "121.7" (Aurora Ground)
You:
"AURORA GROUND, THIS IS CESSNA 13MIKE AT THE TERMINAL FOR TAXI TO RUNWAY 36 WITH A LEFT DOWNWIND DEPARTURE. I HAVE INFORMATION JULIETTE."
Aurora Ground:
"13MIKE, TAXI TO RUNWAY 36. NEW ALTIMETER SETTING IS 29.97."
You:
"13MIKE, 29.97."
TAXI -
"The runway is to your left. Taxi straight ahead until you reach the runup area which is just a hop, skip, and jump away if you're a rabbit! Turn the aircraft towards the runway, but not on it. We will do the runup from there. " See Figure 6.1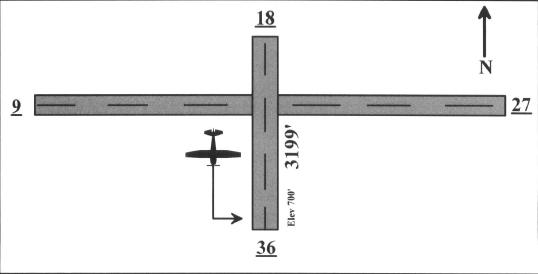 Figure 6.1. Taxi to runway 36.
RUN UP -
1) Set brake (hold down to prevent aircraft from moving)
2) Advance power to about "1700" RPM
**      3) Select CARB HEAT "ON", record RPM drop________(5 pts)
4) Select CARB HEAT "OFF"
**      5) Select "LEFT" Mag, record RPM drop__________(5 pts)
6) Select "BOTH" Mags
**      7) Select "RIGHT" Mag, record RPM drop_________(5 pts)
8) Select "BOTH" Mags
9) Reduce power to idle
10) Set FLAPS to first notch (10 degrees takeoff configuration)
"What do we need to activate? No, not the autopilot! Try again! No, not the Super Nintendo Martyr Brothers, or whoever they are! No, not the Romulan Cloaking Device! You got it! You filed it, since you went through the trouble of putting it together, you might as well use it! Let's activate the VFR fight plan right here with Ground."
You:
"AURORA GROUND, 13MIKE WOULD LIKE TO ACTIVATE ITS VFR FLIGHT PLAN TO BLOOMINGTON-NORMAL AS OF 1207 LOCAL."
Aurora Ground:
"13MIKE, YOUR VFR FLIGHT PLAN IS ACTIVATED. FLY SAFE AND HAVE A GOOD DAY."
You:
"13MIKE."
"Wait! I've got to put my '13MIKE' hat on before we move! If you can land at Bloomington without scaring me, I'll give you one of your own! Okay, now go to Tower on 120.6. I'm sure Ground has passed on our intentions to them. Let's test it out."
11) Tune COM to "120.6" (Aurora Tower)
You:
"AURORA TOWER, CESSNA 13MIKE, READY FOR DEPARTURE RUNWAY 36."
Aurora Tower:
"CESSNA 13MIKE, HOLD SHORT FOR TRAFFIC ON SHORT FINAL."
You:
"13MIKE, HOLDING SHORT."
Aurora Tower:
"13MIKE, YOU ARE NOW CLEARED FOR TAKEOFF, LEFT DOWNWIND DEPARTURE APPROVED. MAINTAIN RUNWAY HEADING TILL 1400 FEET."
You:
"13MIKE IS CLEARED FOR TAKEOFF. ROLLING."
Table of Contents
Previous Section: Flight Scenario Six: Aurora to Bloomington-Normal: Setup
Next Section: Flight Scenario Six: Aurora to Bloomington-Normal: Flight