by Fred J. Calfior and Douglas W. Miller
| | |
| --- | --- |
| note: | Set ZOOM to "1.0" |
|   | Set TIME to "13:30" |
"I'm getting too old to be climbing in and out of this cockpit all day long! Hey, what happened to our Lear jet? Man, if we had one of those, we could do these fights in five minute bursts, couldn't we? But then we'd miss out on all the fun a 182 RG has to offer like vibration, prop noise, clunking gear down noises and pure aesthetic looks! Before I start crying, let's get ATIS on 135.35. As a note, have a piece of paper out and actually copy down some of this stuff. I've had students who listened to ATIS quite impassively, then asked them what it said, and they didn't have a clue!"
Instruments:
1) Tune COM to "135.35" (ATIS)
"BLOOMINGTON-NORMAL AIRPORT, INFORMATION OSCAR, 1830 ZULU WEATHER, SKY CLEAR, VISIBILITY 40, TEMPERATURE 92, WIND 020 AT 7. ALTIMETER 29.94. RUNWAY 3 IS THE ACTIVE RUNWAY FOR ALL DEPARTURES AND ARRIVALS. VASI LIGHTS ARE OUT OF SERVICE FOR RUNWAY 3 UNTIL FURTHER NOTICE. ADVISE ON INITIAL CONTACT YOU HAVE INFORMATION OSCAR."
"There must have been a wind shift since the time an hour or so ago when we landed. I don't know if you've ever tried to take off on a runway which sported tailwinds, but I'd say don't even try it as an experiment! The takeoff runs get pretty long and on a short runway, can cause quite some anxiety! Let's go ahead and set up the instruments as we need them for this leg to Kankakee. "
2) Set "Altimeter" and "DG"
3) Set XPDR to "1200" (VFR code)
4) Tune NAV 1 to "108.2" (BMI)
5) Tune NAV 2 to "116.8" (RBS)
6) Set the DME to "NAV 1" and "DIST"
7) Check CARB HEAT is "OFF"
8) Check GEAR "DOWN"
9) Turn STROBE "ON"
10) Check LIGHTS are "OFF"
"Yup, that's sure right! Ground Control is next for taxi."
11) Tune COM to "121.65" (Bloomington-Normal Ground)
You:
"BLOOMINGTON-NORMAL GROUND, THIS IS CESSNA 13MIKE AT THE RAMP, READY TO TAXI TO RUNWAY 3 WITH INFORMATION OSCAR."
Bloomington-Normal Ground:
"CESSNA 13MIKE, MAKE A LEFT TURN AND TAXI TO RUNWAY 3. YOU ARE CLEARED TO CROSS RUNWAY 11-29 AT TAXIWAY CHARLIE."
TAXI -
"Boy, oh boy! Runway 11 is to our left. Taxi straight ahead, there must be taxiway Charlie right there before runway 3 - turn LEFT. Continue to taxi, since they have already cleared us to cross runway 11-29, until you arrive at the runup area for runway 3. Turn right and hold short of it. Perform your runup. " See Figure 7.1.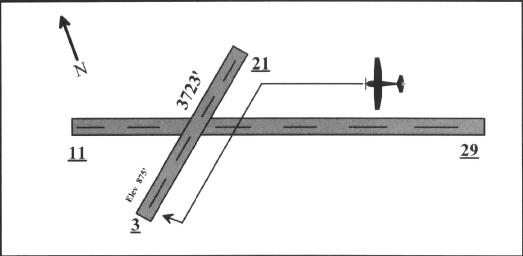 Figure 7.1. Taxi to runway 3.
RUN UP -
1) Set brake (hold down to prevent aircraft from moving)
2) Advance power to about "1900" RPM
**      3) Select CARB HEAT "ON", record RPM drop ______(5 pts)
4) Select CARB HEAT "OFF"
**      5) Select "LEFT" Mag, record RPM drop __________(5 pts)
6) Select "BOTH" Mags
7) Select "RIGHT" Mag, record RPM drop ____________(5 pts)
8) Select "BOTH" Mags
9) Reduce power to idle
10) Set FLAPS to first notch (10 degrees takeoff configuration)
"Wasn't there a song written about the Kankakee Choo-choo? Chattanooga? Is that right?!!! And I thought we were going some place real special!! What should we do next? Not Tower yet! Yeah, activate your flight plan - build that habit so that you never go airborne on a cross country without having filed and activated a flight plan."
You:
"BLOOMINGTON-NORMAL GROUND, 13MIKE WOULD LIKE TO ACTIVATE ITS VFR FLIGHT PLAN TO CHATTANOOGA - I MEAN, KANKAKEE AIRPORT AT THIS TIME!"
Bloomington-Normal Ground:
"13MIKE, YOUR FLIGHT PLAN TO KANKAKEE IS ACTIVATED AT THIS PRESENT TIME. HAVE A GREAT FLIGHT."
You:
"13MIKE, THANK YOU."
"Talk about planting a thought seed!!!! Ground is probably laughing its head off now, so I'm glad we brightened up their day! Well, let's head up to the north then, and see what else we can learn about flying in visual conditions. You ready? Good! Tower is on 124.6, and let's ask for an upwind departure."
11) Tune COM to "124.6" (Bloomington-Normal Tower)
You:
"BLOOMINGTON-NORMAL TOWER, CESSNA 13MIKE, READY FOR DEPARTURE RUNWAY 3. REQUEST AN UPWIND DEPARTURE."
Bloomington-Normal Tower:
"13MIKE, YOU ARE CLEARED FOR TAKEOFF. YOUR DISCRETION FOR DEPARTURE - NO INBOUNDS REPORTED."
You:
"13MIKE, WE'LL CLEAR THE AREA AND EXIT UPWIND ON A RIGHT 45 TO ROBERTS. CLEARED FOR TAKEOFF."
Table of Contents
Previous Section: Flight Scenario Seven: Bloomington-Normal to Kankakee: Setup
Next Section: Flight Scenario Seven: Bloomington-Normal to Kankakee: Flight