by Fred J. Calfior and Douglas W. Miller
Takeoff:
"If you were a beginning pilot, I'd say do all your checks first and then move out onto the runway. But we've done this several times in the past, so while moving, that's it, check that your flaps are in position, trimmed as desired for takeoff, oil temperature is in the green as well as the oil pressure. You're lined up perfectly on centerline - get that power on full and juice it!!!"
1) Record TIME ___________________________
2) Release brakes and taxi onto runway 3
3) Advance power to "FULL"
4) Maintain centerline of runway
5) At 50 knots airspeed lift nose wheel off runway
6) At 70 knots ease back on the yoke to establish a 10 degree pitch up attitude
7) Maintain a climb AIRSPEED of 80 knots
8) Raise Gear when there is no more runway to land on
"Check behind you to ensure that you are maintaining the runway centerline on the takeoff leg. Correct accordingly. You know, you should always be looking around. On maintaining runway heading, a method I advise is to pick a point in front of you when you're on the runway, and then after you're airborne a bit, still pointing at that reference, check behind you for alignment. Then you can correct that point."
**       9) At "500" feet above the ground, raise the FLAPS to "0" What is your altitude? _________________(20 pts)
**      10) At "1000" feet above the ground, make a "45" degree right departure turn. What is that desired heading? ____________(20 pts)
11) Reduce power to about "2300" RPM at "1000" feet above the ground (AGL)
12) When wings are level, press "P" to pause the simulation
**      13) Record your:
NAV I DME DIST ________________________ (25 pts)
ALTITUDE ______________________________ (20 pts)
AIRSPEED ______________________________ (15 pts)
VSI ____________________________________ (15 pts)
GEAR __________________________________ (10 pts)
FLAPS _________________________________ (10 pts)
14) Press "P" to continue the simulation
Climb out & Level off:
1) Continue your climb to "3500" feet
2) Begin to level off when the altimeter reads "3400" feet
3) Maintain "3500" feet, set power to about "2200" [2400] RPM
4) Maintain the 45 degree departure course until you see "10.0" on the NAV 1 DME DIST
To ROBERTS VOR:
"Now I'm interested in working with you on another concept of the VOR. And that is, rather than dialing in a predetermined heading on the VOR, let's see what heading will bring us direct to Roberts VOR! You know that when you are right on a desired radial, the CDI needle is centered, and you correct to keep it centered. Since our Number 2 VOR is already on Roberts VOR f equency, let's see what centers the needle. Two headings will center the needle - one is 'TO' and the other is 'FROM'. We want to go to Roberts VOR."
1) Set the NAV 2 OBS to whatever upper window heading that will give you a "TO" with the needle being centered
2) Turn to the course shown in the upper window
3) When wings are level, press "P" to pause the simulation
**      4) Record your:
Ground speed from NAV 2____________________ (20 pts)
NAV 2 DME DIST__________________________ (25 pts)
NAV 2 COURSE with centered needle___________ (25 pts)
Airspeed__________________________________ (20 pts)
Estimated time en route from present
position to ROBERTS VOR________________ (20 pts)
5) Press "P" to continue the simulation
6) Track inbound on your centered needle
"See! Can anything get more exciting than this!!! Let me reword that! Can anything worthwhile get more exciting ... never mind! Now you still apply the basic VOR principles of tracking. For instance, the winds at altitude are doing what to you? I'd say that you've got a correction coming and the needle is showing you that, isn't it? So offset by 20 degrees, wait for the needle to center, and then go back half that correction. "
7) Tune NAV 1 to "111.6" (IKK) and set "024" in the upper window
Course change #1:
1) Watch your NAV 2 DME DIST and as it reaches "0.4", turn left to a heading of "024"
2) Cross check to see that the NAV 1 CDI needle should almost be centered
"Remember, the cruise winds are from '070' at 20 knots. The 024 course will get you to Greater Kankakee airport directly with no winds. Could that mean that we might need to think about a crab in order to fly our desired track to the airport? Look at the ground! You can almost see as well as feel the left lateral movement we are making!"
**      3) From the above, what might be a good heading to go to?______________ (20 pts)
4) Fly that heading and visually scan outside for possible traffic
Descent:
"Greater Kankakee Airport is set up somewhat differently than what you're used to seeing. There is no ATIS, since there is only a UNICOM facility there. To get the local altimeter setting, you must talk to Kankakee Radio, which is on frequency 122.2. Ultimately, we still need to advise UNICOM of our position and intentions, but for now, let's just get the altimeter setting. "
1) When NAV 2 DME reads "8.0", tune COM to "122.2"
You:
"KANKAKEE RADIO, CESSNA 13MIKE, SAY PRESENT ALTIMETER SETTING PLEASE."
Kankakee Radio:
"CESSNA 13MIKE, LOCAL KANKAKEE ALTIMETER SETTING IS 29.99."
2) Set ALTIMETER, set DG, and check FUEL
3) Set CARB HEAT to "ON"
4) Press "P" to pause the simulation
**     5) Record your:
NAV 1 DME DIST_______________________ (25 pts)
ALTITUDE________________________________ (20 pts)
HEADING_________________________________ (20 pts)
AIRSPEED________________________________ (15 pts)
6) Press "P" to continue the simulation
"I'd say that definitely fits the description on the VFR sectional of the city of Kankakee! The airport is melted somewhere on its southern border by the railroad tracks, so we know we're close. Let's go and contact Kankakee UNICOM on 123.0 and see what earthshaking news they can dish out to us!"
7) Tune COM to "123.0" (Kankakee UNICOM)
You:
"KANKAKEE UNICOM, THIS IS CESSNA 13MIKE ABOUT TEN MILES SOUTHWEST OF THE FIELD AT 3500 FEET, INBOUND FOR LANDING. REQUEST LANDING ADVISORY."
Kankakee UNICOM:
"CESSNA 13MIKE, WINDS ARE OUT OF THE NORTHEAST AT 5 TO 10 KNOTS, RUNWAY 4 IS THE ACTIVE RUNWAY AND NO REPORTED TRAFFIC OTHER THAN YOU INBOUND."
You:
"13MIKE WILL MANEUVER TO THE NORTHEAST AND ENTER ON A RIGHT 45 DEGREE ENTRY FOR A FULL STOP ON RUNWAY 4. WILL REPORT A THREE MILE 45."
"What we are doing now is not exactly standard procedure other than setting up for a 45 degree entry to the active runway. We could just circle to our right and come in on the 45, but I'd like you to see an instrument style sort of course reversal which will challenge your practical application skills! And since nobody is around, we've got the whole airspace to flop around in!! That's the beauty of uncontrolled fields - look at all the things you can get away with!!!!! As long as safety isn't compromised, right?"
8) When the general airport area is in sight, reduce power to about "2000" [2200] RPM
9) Descend to "2300" feet
10) At "2300" feet, increase power to about "2200" [2400] RPM
"This starts your approach descent to Greater Kankakee airport. We'll overfly the field so we can have a good starting point. Then we'll never lose visual of it, but like I said, the practice procedure will be good."
11) When overhead the field, turn right to a heading of "085"
12) Start timing on a heading of "085" for 2 minutes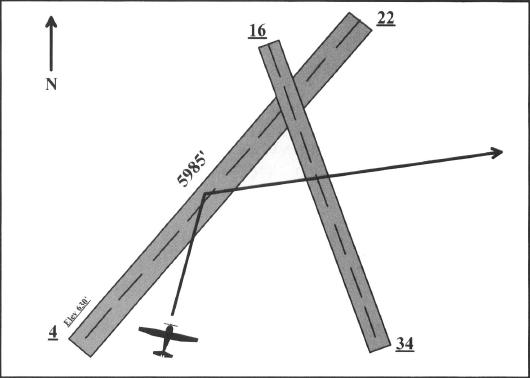 Figure 7.2. Fly over of runway 4 and RIGHT turn to 085
"Now, as you can see, we are proceeding outbound away from runway 4 on a 45 degree angle. This is a good track, but it's going in the wrong direction. I want you to execute what is called in the instrument environment a procedure turn', also called an 80-260 course reversal. Wait until two minutes go by and then execute it."
Traffic pattern entry:
1) At the end of 2 minutes, turn RIGHT for 80 degrees of heading change
**      2) Heading_____________________(20 pts)
3) At the completion of 80 degrees of turn, smoothly reverse the turn to the LEFT for 260 degrees of heading change
**      4) Heading____________________(20 pts)
"This procedure is actually accomplished in the instrument environment with a standard rate turn. Do you see how it can now be applied to reversing a course to a desired track? And the standard rate-ness of the turn is vital because of the timing that it entails. But I won't go into that now. Can you draw a picture in your mind and tell me where we'll be at the end of this left 260 degree turn?"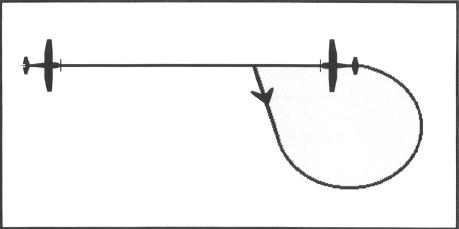 Figure 7.3. A right "80-260" degree course
5) When the reversal is complete, press "P" to pause the simulation
6) Record your:
NAV 1 DME DIST_______________________(25 pts)
ALTITUDE_____________________________(20 pts)
RIGHT DOWNWIND HEADING____________(20 pts)
CARB HEAT____________________________(10 pts)
CURRENT HEADING____________________(10 pts)
7) Press "P" to continue the simulation
All right! Now back to where we left off. Look! There's K-Mart, the home of the blue light special again!!!! You see, we simply reversed ourselves and are now revisiting the 45 degree track, but now it's towards runway 4 of Greater Kankakee Airport! This could even be put into the category of cooler than the VOR needle centering and you turning to that heading! Slow down, my racing heart, slow down!!!!!"
Approach:
1) Approach the runway at a "45" degree angle. After completion of the 80-260 maneuver, descend to "1600" feet
2) Reduce power to about "1400" [1700] RPM
"Remember that you told them you'd call at the three mile 45, which is about where you are at right now! We are also beginning our approach descent into the landing pattern."
You:
"KANKAKEE TRAFFIC, CESSNA 13MIKE IS ON A THREE MILE RIGHT 45 FOR RUNWAY 4, FULL STOP."
3) When you are about one mile from the runway, make a LEFT turn to enter the DOWNWIND leg of the approach
"Hey, would you set your gams on that rectangular slab of asphalt! I just saw 'West Side Story', so the New York lingo slips in every once in a while! Translated, I said, you should be able to see the runway out your right side window as you are flying parallel to it!"
4) Select GEAR "DOWN"
5) When you have slowed to 90 knots, set FLAPS to first notch
"You are flying around in an uncontrolled airport, where anybody can come in at will, not see you, run right into you, stall, turn upside down, and both meet the ground at quite a rapid rate! Since I'm not interested in that story, let's tell traffic, whoever they are or will be, that we are right downwind, right base, right final (?), et cetera, et cetera, et cetera! The night before last, I saw 'The King and I'!!!"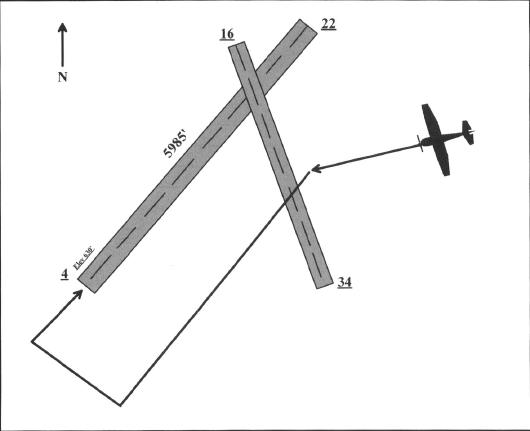 Figure 7.4 45 entry for RIGHT DOWNWIND
You:
"KANKAKEE TRAFFIC, CESSNA 13MIKE IS RIGHT DOWNWIND FOR RUNWAY 4, FULL STOP."
6) Abeam the approach end of runway 4, begin your descent to landing
7) Try and maintain a 400 ft per minute descent
"Quiz time!!! You ready??!"
**       8) Adjust height with_____________________________(20 pts)
9) Adjust airspeed with____________________________(20 pts)
10) When the end of the runway is at your 5 o'clock position, turn RIGHT "90" degrees to establish your BASE leg of the approach
11) Set FLAPS to second notch (20 degrees)
12) Press "P" to pause the simulation
**      13) Record your:
AIRSPEED______________________________(25 pts)
ALTITUDE______________________________(25 pts)
RPM___________________________________(20 pts)
HEADING_______________________________(20 pts)
VSI____________________________________(15 pts)
CARB HEAT_____________________________(15 pts)
GEAR___________________________________(10 pts)
14) Press "P" to continue the simulation
You:
"KANKAKEE TRAFFIC, CESSNA 13MIKE IS ON RIGHT BASE FOR RUNWAY 4, FULL STOP."
15) When runway 4 is at your 2 o'clock position, start a "90" degree RIGHT turn to your FINAL leg of the approach
"You got to love me while we're in the airplane, because I can pull the mixture any time, raise the flaps inappropriately, sing a rendition of 'Oklahoma' which I saw three nights ago, or anything!! But I'd suggest that you line up on runway 4 and not the taxiway!!! Make slight heading adjustments to compensate for winds, overshoots, or undershoots."
16) When on the FINAL approach, set FLAPS to third notch
You:
"KANKAKEE TRAFFIC, CESSNA 13MIKE IS ON FINAL FOR RUNWAY 4, FULL STOP."
17) Airspeed should be 70 knots
"If you're low, add power - if you're high, reduce power - if you're low in speed, lower nose - if you're high in speed, raise nose. Then fine tune everything else to hold that perfect picture of the runway threshold on your windscreen. WOW.!!! You're right on the mark! Capture that picture and take it with you to the numbers!!!"
18) When the Altimeter displays "800" feet, press "P" to pause the simulation
19) Record your:
AIRSPEED_______________________________(20 pts)
VSI_____________________________________(20 pts)
HEADING_______________________________(15 pts)
RPM____________________________________(15 pts)
FLAPS__________________________________(10 pts)
20) Press "P" to continue the simulation
21) When you are 10 feet off the runway, reduce power to about "1000" RPM and start to slowly pitch the nose of the aircraft up to slow your descent and establish a touchdown attitude
"WATCH YOUR AIRSPEED! 60 - 60 - 60 - 60!!! Hike!! Don't get stally on me! Don't let your airspeed drop below 60 knots."
22) When you are five feet off the runway, hold the nose of the aircraft up and allow the airspeed to SLOWLY bleed off. Your aircraft will settle onto the runway while you follow the centerline
"Your peripheral vision can track the sides of the runway and help you to gently settle 13MIKE onto the runway smoothly, and appearance wise, effortlessly. Of course, we know it takes lots of work, but spectators don't."
23) After touchdown, reduce power to 600 RPM
24) Apply the brakes
25) Turn right and taxi off the active runway
26) When aircraft has stopped, set CARB HEAT to "OFF"
27) Set FLAPS to "0"
"You have flown this leg like a champ!!! And that's with all kinds of new procedures learned, and you never even missed a beat! Let traffic know we're clear of the active and we'll get a drink, talk about what you learned, and close this flight plan over the phone. When I was a rich man - yabba dabba dooba - doobie - dum!!! Sorry, that's from 'Fiddler On The Roof'!"
You:
"KANKAKEE TRAFFIC, CESSNA 13MIKE IS DOWN AND CLEAR OF THE ACTIVE. TAXIING TO THE SHACK."
**       28) Record the TIME___________________________(5 pts)
TOTAL POINTS POSSIBLE FOR THIS FLIGHT IS   785  
Table of Contents
Previous Section: Flight Scenario Seven: Bloomington-Normal to Kankakee: Preflight
Next Section: Flight Scenario Eight: Kankakee to Chicago Meigs Field