by Fred J. Calfior and Douglas W. Miller
| | |
| --- | --- |
| note: | Set ZOOM to "1.0" |
|   | Set TIME to "15:00" |
"Did you notice how pretty this airport was when we came in? The Kankakee River is so picturesque and broad winding right up to our north here. We'll follow it for awhile as we depart, just in case you missed noticing it on the way in. Thanks, Professor Miller, for your brief of this flight with my student - it was superb as ever! I'm Professor Calfior, not Califor, not California, not Cauliflower, but the pronunciation goes right with the letters! Sad to say, we have no ATIS to entertain us, but let's give a jingle to UNICOM on 123.0 for some basic information."
Instruments:
1) Tune COM to "123.0" (Kankakee UNICOM)
You:
"KANKAKEE UNICOM, CESSNA 13MIKE IS AT THE RAMP, ALMOST READY TO TAXI. COULD YOU GIVE US SOME INFORMATION ON WINDS, RUNWAY IN USE, AND ALTIMETER SETTING, PLEASE?"
Kankakee UNICOM:
"13MIKE, WINDS ARE VARIABLE FROM THE NORTHWEST TO THE NORTHEAST AT 5 TO 10 KNOTS, YOUR CHOICE OF RUNWAYS FOR TAKEOFF, EITHER 34 OR 4, ALTIMETER SETTING 30.0l."
"So we can follow the river a bit, let's advise them that we'll head for runway 34 when we're ready to taxi. It'll be a straight out departure. Get your cross country materials organized in this cockpit, and set up the navigation instruments. Gee, this'll be our last leg together in Chicago, won't it? I fly out to San Francisco tomorrow for another spectacular series of flights - you can come if you like!"
2) Set "Altimeter" and "DG"
3) Set XPDR to "1200" (VFR code)
4) Tune NAV 1 to "114.2" (CGT)
5) Set NAV 1 OBS to acquire a centered needle and a 'TO' indication
6) Tune NAV 2 to "114.2" (CGT)
7) Set NAV 2 OBS to "356" in the upper window
8) Set the DME to "NAV 1" and "DIST"
9) Check CARB HEAT is "OFF" and GEAR "DOWN"
10) Turn STROBE "ON" and LIGHTS are "OFF"
You:
"KANKAKEE UNICOM, 13MIKE WILL BE TAXIING TO RUNWAY 34 FOR DEPARTURE. THANKS FOR YOUR HOSPITALITY."
Kankakee UNICOM:
"13MIKE, YOU'RE WELCOME. ENJOYED YOUR COMPANY. HAVE A GOOD FLIGHT UP NORTH."
TAXI -
"Runway 4 is at your back. So make a right turn and taxi along the taxiway to the Terminal. Make a left turn at the Terminal and taxi along the taxiway to the runup area of runway 34. We will perform our runup there. I can hardly wait to get airborne, because this is going to be such a pretty f fight all the way through!" See Figure 8.1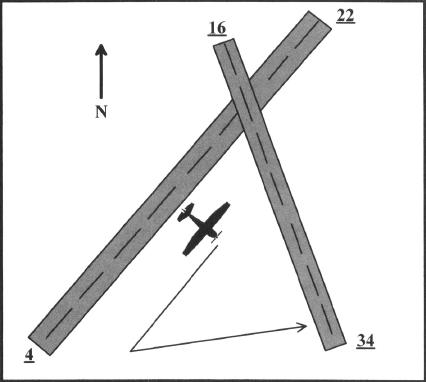 Figure 8.1. Taxi to runway 34
RUN UP -
"Well, that gave us a little taxi tour of the south side of the airport, didn't it? Did you see that jackrabbit scoot by our right side as we turned left at the Terminal? I didn't think the Chicago area had jackrabbits! Plenty of them where I come from, Arizona! Well, who cares! Before we get airborne, make sure the engine is operating up to snuff and finish off the pretake-off checklist. "
1) Set brake (hold down to prevent aircraft from moving)
2) Advance power to about "1700" RPM
**      3) Select CARB HEAT "ON", record RPM drop_____ (5 pts)
4) Select GARB HEAT "OFF"
**      5) Select "LEFT" Mag, record RPM drop___________(5 pts)
6) Select "BOTH" Mags
**      7) Select "RIGHT" Mag, record RPM drop________ (5 pts)
8) Select "BOTH" Mags
9) Reduce power to idle and ensure FLAPS are up
"Yeah, you're right! I just want to see you do this takeoff without any flaps - it's not so outlandish that it isn't done! As a matter of fact, we've been using 10 degrees flaps, and that's what the pilot operating handbook advises for a short or soft field takeoff. I wanted to see you do one without flaps, so I will! Now, another thing! There is a Flight Service Station on this field, as you know, and 1 want you to open your flight plan with them on frequency 122.1. That's a standard frequency for all FSSs, so you can't go wrong jumping on that one! Go ahead!"
10) Tune COM to "122.1" (Kankakee Radio)
You:
"KANKAKEE RADIO, CESSNA 13MIKE WOULD LIKE TO ACTIVATE ITS VFR FLIGHT PLAN TO CHICAGO MEIGS FIELD RIGHT NOW."
Kankakee Radio:
"CESSNA 13MIKE, YOUR FLIGHT PLAN IS ACTIVATED AS OF 8 MINUTES PAST THE HOUR. GOOD DAY."
"It's so important to do all this prep work before actually getting airborne. Are you beginning to see that? Missing most any of our checklist items could cause quite a stir for you, the pilot, if you're not faithful in the performance of your pretake-off responsibilities. That's why I harp on you to stay with it, focused and serious on setting up your airplane each and every flight. But enough is enough, for crying out loud! Get me airborne before I sprout wings and fly without this contraption! Let traffic know what we plan to do. "
You:
"KANKAKEE TRAFFIC, CESSNA 13MIKE IS ROLLING ONTO THE ACTIVE, RUNWAY 34, FOR A STRAIGHT OUT DEPARTURE TO THE NORTH."
Table of Contents
Previous Section: Flight Scenario Eight: Kankakee to Chicago Meigs Field: Setup
Next Section: Flight Scenario Eight: Kankakee to Chicago Meigs Field: Flight