by Fred J. Calfior and Douglas W. Miller
Takeoff:
"Are we airborne yet? I've got get-air-itis, rather than get-home-itis! All right, flaps are up for this takeoff, enough fuel to get to Meigs, trimmed to perfection, and both oil temperature and pressure are happy figures! Hup, two, three, four - centerline this thing and let's see the river!"
1) Record TIME____________________________
2) Release brakes and taxi onto runway 34
3) Advance power to "FULL"
4) Maintain centerline of runway
5) At 50 knots airspeed lift nose wheel off runway
6) At 70 knots ease back on the yoke to establish a 10 degree pitch up attitude, maintain a climb AIRSPEED of 80 knots
7) Raise Gear when there is no more runway to land on
8) At "500" feet above the ground (AGL), increase climb AIRSPEED to 90 knots
9) Reduce power to about "2300" RPM at "1000" feet AGL
"With this lower nose attitude climb schedule, you should be seeing approximately a "900 to 950" feet per minute climb rate on your Vertical Speed Indicator (VSI). Oh, look at the Kankakee River!"
Climb out:
1) Maintain runway heading to "1200" feet, then follow Interstate 57 northbound
"Just as a reminder, since I feel like I've neglected to say this enough, all turns should be STANDARD RATE. You make a STANDARD RATE turn by keeping the wings on the little airplane displayed on the TURN COORDINATOR aligned with the "L" indicator in this case. Now, if you were doing an aileron roll, you wouldn't be using your turn coordinator! Wouldn't that be a blast just to try it once in this airplane? Go ahead - no, don't! Oh, what the heck, do it! No, let's do it in a simulator first!
Level off:
1) Begin to level off when the altimeter reads "3400" feet
2) Maintain "3500" feet, set power to about "2150" [2350] RPM
"Like I said, isn't the scenery here gorgeous? Say bye to the river off to the left! Well, we're looking for Sanger Field as our first official checkpoint, though there's plenty of others out here. So enjoy the leisure, but the pace will certainly pick up as we near Chicago Proper. Boy, has this been a good day or what!!!!?"
Course change:
1) When abeam Sanger Field, proceed direct to Chicago Heights VOR
2) Center the NAV 1 CDI needle with a 'TO' indication
3) Turn to that heading
4) When established inbound, press "P" to pause the simulation
**      5) Record your:
GROUND SPEED______________________ (20 pts)
NAV 1 DME DIST_____________________ (25 pts)
ALTITUDE___________________________ (20 pts)
CENTERED NAV 1 CDI HEADING________(25 pts)
AIRSPEED____________________________ (15 pts)
VSl__________________________________ (15 pts)
6) Press "P" to continue the simulation
"Do you catch that smell? The combination of aviation fuel and Lake Michigan! Oh, sweet heaven!!! Now be aware of your environment at all times. You have the Chicago TCA, but we will be descending so that it doesn't affect us. We will be brushing by the ARSA whose floor is 1900 feet, but we'll even be below that! Did you notice all this when you planned this fight? It's like putting a puzzle together and seeing it all accomplished as you fly - that's the fun of flying these cross countries! Well, it's time to go lower!"
Descent:
1) When NAV 1 DME DIST reads "0.4", then commence your turn to fly the Shore Visual Rwy 36 into Chicago Meigs Field
"Now we actually will be flying the Shore Visual Rwy 36 approach into Chicago Meigs Field. We're not telling anybody that this is what we're doing - it's just for you to see how a visual approach is actually accomplished when coming from the instrument environment. You could say we're simulating it, but it'll be a straight in approach as far as Meigs Tower is concerned. So that turn is to a course of "356" as we've got set in on our NA V 2 VOR. "
2) Transition to your NAV 2 display
3) When established outbound, reduce power to about "1900" [2100] RPM, descend and maintain "1800" feet
"Let's see you hold a 500 feet per minute rate of descent on this slide into Home Plate until you reach 1800 feet. While you're losing altitude, go get us some ATIS for supper!"
4) Tune COM to "127.35". (Meigs ATIS)
"CHICAGO MEIGS FIELD, INFORMATION YANKEE, 2000 ZULU WEATHER, SKY CLEAR, VISIBILITY 25 WITH HAZE. TEMPERATURE 79, WIND 020 AT 7. ALTIMETER 29.99. LANDING AND DEPARTING RUNWAY 36. ADVISE ON INITIAL CONTACT YOU HAVE INFORMATION YANKEE."
5) Set ALTIMETER, set DG, and check FUEL
"Isn't that peachy-keen? Runway 36, just as if we ordered it from a restaurant! Being that this is a busy airport, we need to call Tower early and tell them our intention to proceed straight in. Then maybe they'll coordinate us in between any traffic that's in the pattern, or other arrivals. I'd say we're about what - 12 miles or so from the field? Tower is on 121.3. "
6) Tune COM to "121.3". (Meigs Tower)
You:
"CHICAGO MEIGS TOWER, CESSNA 13MIKE IS 12 MILES SOUTH OF THE FIELD, INBOUND FOR LANDING WITH YANKEE. WOULD LIKE TO REQUEST A STRAIGHT IN TO A FULL STOP, RUNWAY 36."
Meigs Tower:
"CESSNA 13MIKE, ADVISE WHEN YOU ARE ON A FIVE MILE INITIAL. MAINTAIN AT OR BELOW 1900 FEET TO AVERT SOUTHEAST PORTION OF CHICAGO MIDWAY ARSA."
You:
"13MIKE WILL REPORT AT FIVE MILES. PASSING 2600 FOR 1800 FEET."
7) Follow alongside Interstate 94 until you arrive abeam the south shore of Lake Michigan
8) When abeam south shore, press "P" to pause the simulation
**      9) Record your:
NAV 2 DME DIST___________________________ (25 pts)
HEADING__________________________________ (20 pts)
ALTITUDE_________________________________ (20 pts)
AIRSPEED_________________________________ (15 pts)
VSI______________________________________ (15 pts)
10) Press "P" to continue the simulation
11) At "1800" feet, set your power to about "1900" [2100] RPM and follow the shoreline inbound to Chicago Meigs Field
12) When the NAV 2 DME DIST reads "15.5":
"Right now, from the looks of it, it's about as good a five mile initial as you're going to get. You know what to do!"
You:
"MEIGS TOWER, 13MIKE IS AT A FIVE MILE INITIAL FOR STRAIGHT IN TO 36."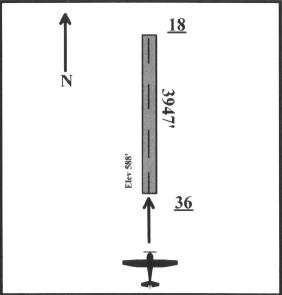 Figure 8.2. Straight in for runway 36
Meigs Tower:
"13MIKE, CONTINUE APPROACH. YOUR LANDING TRAFFIC IS COMMENCING A TURN FROM DOWNWIND TO RIGHT BASE, AND ANOTHER IS ON A ONE MILE FINAL. REPORT WHEN TRAFFIC IS IN SIGHT."
"I've got both of them. Do you? Yeah, pretty easy to spot that base turn, when it's mirrored by the water, isn't it? All right, let them know. "
You:
"MEIGS TOWER, 13MIKE HAS ITS TRAFFIC."
Meigs Tower:
"13MIKE, YOU ARE CLEARED TO LAND ON RUNWAY 36. WILL YOU BE NEEDING FUEL?"
You:
"13MIKE, THAT'S AFFIRMATIVE."
Approach:
1) CARB HEAT "ON" and GEAR "DOWN"
2) Reduce power to about "1500" [1800] RPM
3) Correct to the left to line up on Runway 36
4) When you have slowed to 90 knots, set FLAPS to first notch
"This is our last landing approach together - try a "400" feet per minute descent rate. It looks pretty neat, doesn't it? There's that guy on short final. Our other traffic is stepped up above him just turning from base to final, and then there's us overseeing it all! Lake Michigan is on the right, and there's Chicago Midway over our left shoulder! O'Hare is there left of our final approach course. This place is better than any movie!"
5) Set FLAPS to second notch when about two miles from the approach end. (18.5 DME)
"Now this is a visual thing. What does TWO miles look like? The runway length is about 3/4 of a mile, so fold it over toward you and then add some. Right about here will do it! That's a visual trick you can pull on yourself, and it works consistently! Watch your descent. Try and maintain the same runway aspect as you continue your descent. Don't let that runway end rise or fall."
6) When "ONE" mile from the approach end (19.5 DME), set FLAPS to third notch, airspeed should be 70 knots
"Adjust height with power, and airspeed with pitch - don't oscillate erratically on me! It's looking good, but trim up your stability."
7) Press "P" to pause the simulation
**        8) Record your:
AIRSPEED_____________________________ (25 pts)
VSI___________________________________ (20 pts)
HEADING_____________________________ (15 pts)
RPM__________________________________ (15 pts)
FLAPS________________________________ (10 pts)
GEAR_________________________________ (10 pts)
9) Press "P" to continue the simulation
10) When you are 10 to 20 feet off the runway, reduce power to about "1000" RPM, and start to slowly pitch the nose of the aircraft up to slow your descent and establish a touchdown attitude
"WATCH YOUR AIRSPEED! Be careful not to stall the aircraft. Just hold that attitude so that your runway perspective doesn't move. Get that landing attitude now - don't overcorrect and get fast on me. Shoot for that attitude! That's it! That's it! Now hold it! Never get below 60 knots."
11) When you are five feet off the runway, hold the nose of the aircraft up and allow the airspeed to SLOWLY bleed off. Your aircraft will settle onto the runway while you follow the centerline
"Don't be impatient! Let the aircraft settle onto the runway slowly. Respond with your controls positively, yet gently!"
12) After touchdown, reduce power to 600 RPM
13) Apply the brakes
14) Turn left and taxi off the active runway
15) When aircraft has stopped, set CARB HEAT to "OFF"
16) Set FLAPS to "0"
"Chicago Meigs Field - the airport on the shore! You know, I'd bet you that if Microsoft ever made this airport into a default setting, it'd sell millions of copies of its Flight Simulator program! Let's switch to Ground Control on 121.8 and get our taxi clearance. There's the fuel facility, so we'll head there since they asked. Closeout your flight plan too!"
17) Tune COM to "121.8" (Meigs Ground)
You:
"CHICAGO MEIGS GROUND, CESSNA 13MIKE IS DOWN AND CLEAR OF RUNWAY 36. WOULD LIKE TO TAXI TO THE FUEL FACILITY."
Meigs Ground:
"CESSNA 13MIKE, TAXI TO THE FUEL FACILITY. FOLLOW THE YELLOW AND RED COURTESY TRUCK."
You:
"MEIGS GROUND, 13MIKE WOULD LIKE TO CLOSE ITS VFR FLIGHT PLAN ALSO."
Meigs Ground:
"FLIGHT PLAN CLOSED. ENJOY CHICAGO, 13MIKE!"
18) Taxi to the refueling pit next to the Tower
19) Shut down the engine
**        20) Record the TIME___________________ (5 pts)
             TOTAL POINTS POSSIBLE FOR THIS FLIGHT 375
Table of Contents
Previous Section: Flight Scenario Eight: Kankakee to Chicago Meigs Field: Preflight
Next Section: Flight Scenario Nine: Salinas to San Jose