by Fred J. Calfior and Douglas W. Miller
| | |
| --- | --- |
| note: | Set ZOOM to "1.0" |
|   | Set TIME to "18:00" |
"I'm tired after running all the way from Los Angeles - or was I in Chicago? - to out here in San Francisco! Hi! I'm Professor Cafior, and this promises to be an exhilarating, heart pounding, adrenaline flowing visual fight! I've done this fight once before, and there's probably still a deer on that left mountainside, as we turn into San Jose, that is still trying to grow his (or her) hair back where I shaved it close with the left wing!!! Enough flying stories - let's get ATIS on 124.85 and see what's cooking."
Instruments:
1) Tune COM to "124.85" (ATIS)
"SALINAS MUNICIPAL, INFORMATION TANGO, 0100 ZULU WEATHER, SKY TWO THOUSAND SCATTERED, VISIBILITY 15. TEMPERATURE 78, WIND 040 AT 15. ALTIMETER 30.10. VASIs ARE OUT OF SERVICE ON RUNWAY 8. ALL AIRCRAFT LANDING AND DEPARTING ON RUNWAY 8. ADVISE ON INITIAL CONTACT YOU HAVE INFORMATION TANGO."
"Did you know that to land on an aircraft carrier, we used VASI type glideslope lights also? They operated by way of a Fresnel lens, you saw amber if you were high, green if you were right on, and red if you were low. Now I've done it, and excited you to Go Navy!! Being a Naval Academy graduate of 1975, it's my lifetime sworn duty to recruit whenever I can!! Well, our VASIs are out, which we wouldn't use for takeoff anyway, so who cares? Let's set up the instruments as we need them, before we taxi to glory!"
2) Set "Altimeter" and "DG"
3) Set XPDR to "1200" (VFR code)
4) Tune NAV 1 to "117.3" (SNS)
5) Tune NAV 2 to "114.1" (SJC)
6) Check CARB HEAT is "OFF" and GEAR "DOWN"
7) Turn STROBE "ON" and LIGHTS are "OFF"
"Yeah, boy!! We've got just enough daylight to get ourselves over to San Jose, so let's be went! Um, Ground Control frequency is 121.7, which is fairly generic, for most ground controls - 121 point something. Go get us a clearance while I check our route a bit more."
8) Tune COM to "121.7" (Salinas Ground)
You:
"SALINAS GROUND, THIS IS CESSNA 13MIKE AT THE TERMINAL, READY TO TAXI TO RUNWAY 8 WITH INFORMATION TANGO."
Salinas Ground:
"13MIKE, TAXI TO RUNWAY 8."
You:
"13MIKE."
TAXI -
"The runway is on your left. You are facing towards the beginning of runway 8. Get some power on, and taxi straight ahead. As you come to the end of the runway, turn left and face the aircraft toward the runway but not on it - in other words, don't cross the hold short line. Then perform your runup," See Figure 9.1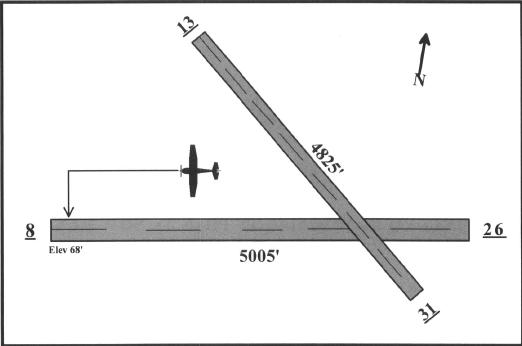 Figure 9.1. Taxi to runway 8
RUN UP -
1) Set brake (hold down to prevent aircraft from moving)
2) Advance power to about "1750" RPM
**        3) Select CARB HEAT "ON", record RPM drop______(5 pts)
4) Select CARB HEAT "OFF"
**        5) Select "LEFT" Mag, record RPM drop_______(5 pts)
6) Select "BOTH" Mags
**        7) Select "RIGHT" Mag, record RPM drop______(5 pts)
8) Select "BOTH" Mags
9) Reduce power to idle
10) Set FLAPS to first notch (10 degrees takeoff configuration)
"You know, I'm glad you brought that up! No matter how short your flight or how familiar you are with your route, a flight plan should always be filed. If I had hit Bambi on that one flight, and wasn't on a flight plan, then nobody would have known where I was, and consequently not known where to look! Now's a good time to activate our VFR flight plan, don't you think?"
You:
"SALINAS GROUND, 13MIKE WOULD LIKE TO ACTIVATE ITS VFR FLIGHT PLAN TO SAN JOSE INTERNATIONAL AT THIS TIME."
Salinas Ground:
"13MIKE, YOUR VFR FLIGHT PLAN IS NOW ACTIVATED. TIME 0106 ZULU. HAVE A FUN FLIGHT."
"What a nice guy! Open that vent up there a little more for me, would you? It's kind of hot in here and that air will feel good when we get airborne. Tower frequency is 119.4, and let's ask for that left crosswind departure, although they probably know that's what we want."
11) Tune COM to "119.4" (Salinas Tower)
You:
"SALINAS TOWER, CESSNA 13MIKE IS READY FOR DEPARTURE RUNWAY 8. WOULD LIKE TO REQUEST A LEFT CROSSWIND DEPARTURE."
Salinas Tower:
"13MIKE, YOU ARE CLEARED FOR TAKEOFF. MAINTAIN RUNWAY HEADING UNTIL 1100 FEET, THEN LEFT CROSSWIND DEPARTURE APPROVED."
You:
"13MIKE CLEARED FOR TAKEOFF. STRAIGHT OUT TO 1100 FEET."
Table of Contents
Previous Section: Flight Scenario Nine: Salinas to San Jose: Setup
Next Section: Flight Scenario Nine: Salinas to San Jose: Flight