by Fred J. Calfior and Douglas W. Miller
Takeoff:
"Be aggressive with that power and line us upon runway 8. Check your flap settings, we've got full fuel, trimmed for takeoff - so far so good - both oil temperature and oil pressure are in the green. Bye Salinas!"
1) Record TIME_______________
2) Release brakes and taxi onto runway 8
3) Advance power to "FULL"
4) Maintain centerline of runway
5) At 50 knots airspeed lift nose wheel off runway
6) At 70 knots ease back on the yoke to establish a 10 degree pitch up attitude
7) Maintain a climb AIRSPEED of 80 knots
8) Raise GEAR when there is no more runway to land on
9) At "500" feet above the ground raise the FLAPS to "0"
10) When "1000" feet above the ground, turn LEFT 90 degrees to depart the traffic pattern
11) When wings are level, reduce power to about "2300" RPM
12) Press "P" to pause the simulation
**        13) Record your:
ALTITUDE_______________(25 pts)
HEADING________________(20 pts)
AIRSPEED_______________(15 pts)
VSI_____________________(15 pts)
FLAPS__________________(15 pts)
14) Press "P" to continue the simulation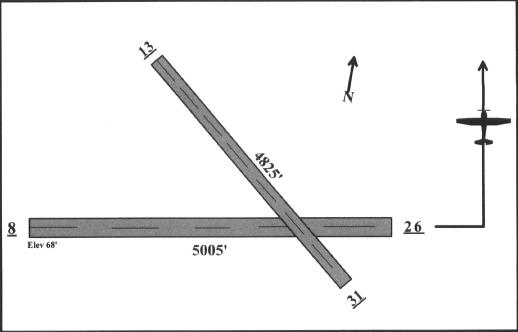 Figure 9.2. Left CROSSWIND departure
"Now, that heading of 360 was, I believe, what you figured out to be the best course out of here to get to that checkpoint of yours abeam the reservoir. So, come right a little bit, and tell me when you see that reservoir. That was very well done all throughout the departure. Oh yeah! Let's see what a 110 knot climb looks like! We'll casually mosey up to altitude!"
Climb out:
1) Increase your airspeed to "110" knots
2) Continue your climb to "4500" and turn RIGHT to a heading of "360"
"Remember, always get into the habit of standard rate turns. They may be boring if you're looking for some fun - did I ever tell you about my 130 degree rolls in the gunnery pattern? I'll wait until you're down in the mouth and need some cheering up to tell you!"
Level off:
1) Begin to level off when the altimeter reads "4400" feet
2) Maintain "4500" feet
3) Reduce power to about "2200" [2400] RPM
Course:
1) Maintain a heading that will give you a ground track of "360"
"On long flights, you may have a tendency to let your mind day dream and lose track of your instruments. Don't let this happen to you, or you may find yourself on the wrong side of a mountain. I happen to be thinking of mountains since I know we're heading toward a couple of them! Keep alert, check signs for what the winds are doing. You may need to make wind corrections. On longish cross countries, the winds can bring to pass large errors in your ground track, and therefore your position."
"Don't fret! You know the reservoir is up ahead somewhere, so just keep working your dead reckoning and pilotage. As long as you're heading north, I would think you certainly can't miss it. Besides, I know exactly where it's at, and so far you're cool!"
2) When the San Luis reservoir is directly off your right wing, start a LEFT turn to a heading of "300" degrees and descend to "3500" feet
"See! And you were worried! There's those two peaks which comes as no surprise, so fly between them very, very, very, very carefully! Notice the emphasis on the word 'ouch' subliminally suggested! In other words, let's not become one with either of those mountains!"
3) When you emerge from the pass, turn LEFT to a heading of "190" degrees
"Glory Hallelujah! That was quite a turn, wasn't it? Well again, I knew that and that's why I wanted you to see this! I certainly wouldn't do this with a new kid on the block because it's not exactly the safest way to come into San Jose, but you can't beat the surge of this sort of challenge when you know your limitations. Speaking of San Jose, do you see it out your right window?"
4) Press "P" to pause the simulation
**        5) Record your:
ALTITUDE_________(25 pts)
AIRSPEED_________(20 pts)
VSI_______________(20 pts)
HEADING_________(15 pts)
RPM______________(15 pts)
6) Press "P" to continue the simulation
Descent:
"No need to be at 3500 feet. Drop us down a thousand to 2500 feet. I'm curious to see what ATIS has to say. Oh, I don't know why! I'm just curious!!! No, be careful now! 118.0 is Clearance Delivery. We want 126.95 -focus them eyeballs after our threading the needle trip!"
1) Descend to "2500" feet
2) Tune COM to "126.95" (San Jose ATIS)
"SAN JOSE INTERNATIONAL, INFORMATION ROMEO, 0130 ZULU WEATHER, SKY CLEAR, VISIBILITY 20, TEMPERATURE 76, WIND 060 AT 11. ALTIMETER 30.08. ALL LIGHT AIRCRAFT ARE TO LAND ON RUNWAY 12 LEFT, HEAVY AIRCRAFT ON RUNWAY 12 RIGHT. ALL TRAFFIC CONTACT TOWER ON 120.7. ADVISE ON INITIAL CONTACT YOU HAVE INFORMATION ROMEO."
"The real reason why I say it's interesting is because you'll find that landing on runway 12L has a personality all of its own. That's because of runway 12R, which sticks out like a peninsula! And since we're gearing up for a left hand pattern - well, you'll see! Let's check our instruments and call tower before we get inside of their airport traffic area!"
3) Set ALTIMETER, set DG, and check FUEL
"Pretty soon, I'm going to wean you and quit telling you what these frequencies are! Your VFR sectional tells you, Jepps plates tell you, Airport Facility Guides tell you, and in this case ATIS told you. That's why you missed it, because you weren't expecting to hear it on ATIS!! Give your full undivided attention whenever you listen to ATIS! Don't worry, you're doing great! Just a few editorial comments now and then - that's me! Oh yeah, 120.7! After all that, I almost forgot to tell you!"
4) Tune COM to "120.7" (San Jose Tower)
You:
"SAN JOSE TOWER, THIS IS CESSNA 13MIKE, ABOUT SEVEN MILES NORTHEAST OF THE FIELD AT 2500 FEET, FOR LANDING WITH ROMEO."
San Jose Tower:
"CESSNA 13MIKE, MAKE A 45 DEGREE ENTRY INTO A LEFT DOWNWIND FOR RUNWAY 12 LEFT. DESCEND DOWN TO TRAFFIC PATTERN ALTITUDE WHEN ESTABLISHED ON THE 45. NEW ALTIMETER SETTING IS 30.06. REPORT WHEN DOWNWIND ABEAM THE TOWER."
You:
"13MIKE, LEFT 45 DEGREE ENTRY FOR RUNWAY 12 LEFT. REMAINING AT 2500 FEET UNTIL ESTABLISHED ON THE 45. WILL REPORT ABEAM THE TOWER."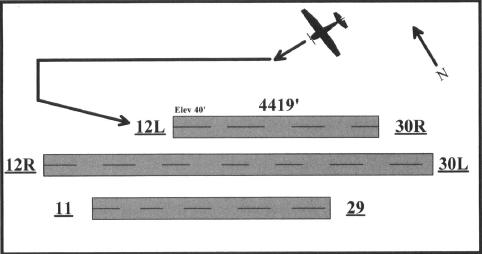 Figure 9.3. 45 degree entry for Left Downwind runway 121
Approach:
5) When the airport is at your 4 o'clock position, turn RIGHT and point your airplane at the middle of the airport
"Now isn't this a pretty unique way to get yourself into a landing pattern? That's what I mean about this fight being interesting! I love this route! So, we're on the 45 for a left downwind - let's come down to 1200 feet. Watch the traffic in the pattern - don't trust tower to do all the work for you. Eyes outside."
6) Descend to "1200" feet
7) When the airport fills the screen, turn RIGHT to parallel the runway. This will establish your left DOWNWIND leg
"See what I mean about runway 12R? Keep your downwind fairly wide so that you don't inadvertently shortchange yourself on the left base leg. You should be able to see the runway easily out your window. In other words, not hidden under your wing!"
8) Select GEAR "DOWN" and CARB HEAT to "ON"
9) Reduce power to about "1400" [1700] RPM
"Don't forget to call abeam."
You:
"SAN JOSE TOWER, 13MIKE IS ABEAM THE TOWER."
San Jose Tower:
"13MIKE, IN SIGHT, CONTINUE APPROACH. YOUR TRAFFIC IS LEFT DOWNWIND, GETTING READY TO TURN BASE."
You:
"13MIKE HAS TRAFFIC."
10) After slowing to 90 knots, set FLAPS to first notch
11) Try and maintain a 400 ft per minute descent
"Adjust your height with power, and your airspeed with pitch. And because of the runways' orientation, it's easy to drift towards the runway right beside us. So concentrate on maintaining that abeam distance until you're ready to turn base."
12) When the end of the runway is at your 7 o'clock position, turn LEFT "90" degrees to your BASE leg of the approach
**        13) What is your heading for the base leg?_______(20 pts)
**        14) Will you land with a LEFT or a RIGHT crosswind?____________________________(20 pts)
**        15) Have you been cleared to land yet?___________(20 pts)
16) Set FLAPS to second notch (20 degrees)
"ALERT! ALERT! Yikes, Zowee! See runway 12R directly in front of you? I suggest you cautiously make an early LEFT turn to FINAL, sort of dog-leggish! You surely DON'T want to fly into the FINAL approach leg of runway 12R. This could be fatal - besides that, bad!"
17) Press "P" to pause the simulation
**        18) Record your:
ALTITUDE ____________________(25 pts)
AIRSPEED ____________________(20 pts)
VSI __________________________(20 pts)
HEADING ____________________(25 pts)
CARB HEAT __________________(20 pts)
RPM _________________________(20 pts)
FLAPS _______________________(15 pts)
19) Press "P" to continue the simulation
20) When wings are level, start your LEFT "90" degree turn to put you on your FINAL leg of the approach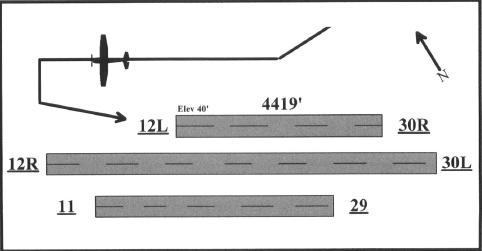 Figure 9.4. Left Downwind turning Left Base for runway 12L
"Yeah, see? You're slightly off to the left side of the runway (which is better than the right side, and probably more healthy!). Don't you worry, even though I'm worried! Joke - get it? Just make any heading corrections to get you lined up with the runway. Remember, stay out of the other runway's air space."
San Jose Tower:
"CESSNA 13MIKE, YOU ARE CLEARED FOR LANDING ON RUNWAY 12 LEFT."
You:
"13MIKE, CLEARED TO LAND."
21) When established on the FINAL leg, set FLAPS to third notch (30 degrees), airspeed should be 70 knots
"Here comes what I'm known for! SuperGlue your mind to the fact that you always adjust height with power, and airspeed with pitch, while in the landing phase!"
22) When the altimeter displays "400" feet, press "P" to pause the simulation
**        23) Record your:
AIRSPEED _______________________________(25 pts)
VSI _____________________________________(25 pts)
HEADING _______________________________(20 pts)
RPM ____________________________________(20 pts)
FLAPS __________________________________(15 pts)
GEAR ___________________________________(15 pts)
24) Press "P" to continue the simulation
25) When you are 10 to 20 feet off the runway, reduce power to about "1000" RPM and start to slowly pitch the nose of the aircraft up to slow your descent and establish a touchdown attitude
"What a nice approach you're flying. I can see you're watching your airspeed real carefully. You don't want to go below what airspeed, ever? That's right - 60 knots! Otherwise, what could happen to you (and me!)? Stall - sink- splat! You got it!"
26) When you are 5 feet off the runway, hold the nose of the aircraft up and allow the airspeed to SLOWLY bleed off. Your aircraft will settle onto the runway while you follow the centerline
"Let it settle slowly - oh, this is looking good! Little more nose up, establish that landing attitude because we don't want the nose gear to hit first. Oh, looking great!"
27) After touchdown, reduce power to 600 RPM
28) Apply the brakes and taxi off the active runway to the left
29) Set CARB HEAT to "OFF"
30) Set FLAPS to "0"
"I'm impressed! You're quite good from what I've seen during this flight! We have another exciting leg to accomplish which will give you some night time experience, and boy, will it ever be pretty! Now switch to Ground Control of 121.7 and get our taxi clearance. While you're at it, close your VFR fight plan with them too."
31) Tune COM to "121.7" (San Jose Ground)
You:
"SAN JOSE GROUND, CESSNA 13MIKE IS DOWN AND CLEAR OF RUNWAY 12 LEFT FOR TAXI TO THE TERMINAL. I'D ALSO LIKE TO CLOSE MY VFR FLIGHT PLAN NOW, IF POSSIBLE."
San Jose Ground:
"13MIKE, YOUR VFR FLIGHT PLAN IS CLOSED, AND TAXI TO THE TERMINAL IS APPROVED."
**        32) Record the TIME _________________________(5 pts)
             TOTAL POINTS POSSIBLE FOR THIS FLIGHT IS 575
Table of Contents
Previous Section: Flight Scenario Nine: Salinas to San Jose: Preflight
Next Section: Flight Scenario Ten: San Jose to Oakland