by Fred J. Calfior and Douglas W. Miller
| | |
| --- | --- |
| note: | Set ZOOM to " 1.0" |
|   | Set TIME to "20:45" |
"It's nighttime - do you know where your airplane is?!! My name is still Professor Calfior, and in an hour and fifteen minutes, it's my bedtime! But this is special, because you and I are going to tour the glittering lights of San Francisco, strafe the Golden Gate Bridge, and patrol the skies overhead to make sure that all inhabitants are safe and sound! Seriously, this will be a great experience for you, and I believe it will strengthen even further your flying skills. Tune in 126.95 in your communications panel and take a listen to ATIS."
Instruments:
1) Tune COM to "126.95" (ATIS)
"SAN JOSE INTERNATIONAL, INFORMATION VICTOR, 0330 ZULU WEATHER, SKY CLEAR, VISIBILITY 25. TEMPERATURE 71, WIND 040 AT 15. ALTIMETER 30.04. LANDING AND DEPARTING RUNWAY 12 RIGHT. ADVISE ON INITIAL CONTACT YOU HAVE INFORMATION VICTOR."
"Now, what I think would be interesting is to try to get a taxi clearance to runway 11 which is a narrower runway - 100 feet compared to the others' 150 feet. Just to keep it interesting! We'll see if we can - they might say 'No', but it can't hurt to ask, right? By the way, I like your drawing here of going under the Golden Gate Bridge, but we'll probably pass on that mission for tonight! Let's check and set our instruments before we taxi."
2) Set "Altimeter" and "DG"
3) Set XPDR to "1200" (VFR code)
4) Tune NAV 1 to "113.9" (OSI)
5) Set NAV 1 OBS to "260" in the upper window
6) Tune NAV 2 to "113.7" (PYE)
7) Set NAV 2 OBS to "320" in the upper window
8) Set the DME to "NAV 1" and "DIST"
9) Check CARB HEAT is "OFF"
10) Check GEAR "DOWN"
11) Turn STROBE "ON"
12) Check LIGHTS are "ON"
"Now when we call Ground, since we want to cross the active runway, be prepared to be told to hold short. In other words, you may not be cleared directly nonstop to runway 11. On the other side of the coin, not much is happening out here right now, so if there's nothing to interfere with, then no delays will occur. Just food for thought! Ground Control frequency is the all favorite 121.7. Whenever you're ready to go. Make sure your little penlight is working - and put in the red cell to conserve your eyes!"
13) Tune COM to "121.7" (San Jose Ground)
You:
"SAN JOSE GROUND, THIS IS CESSNA 13MIKE ON THE NORTH SIDE OF RUNWAY 12 LEFT, READY TO TAXI. I'D LIKE TO REQUEST TAXI CLEARANCE TO RUNWAY 11 FOR DEPARTURE. I HAVE INFORMATION VICTOR."
San Jose Ground:
"13MIKE, YOU ARE CLEARED TO RUNWAY 11. PROCEED VIA THE TAXIWAY AND TURN LEFT TO CROSS RUNWAY 12 RIGHT EXPEDITIOUSLY. TOWER FREQUENCY WILL BE 124.0 FOR A RUNWAY 11 DEPARTURE."
You:
"13MIKE, TAXIING."
TAXI -
"Just to verify, runway 12L is to our left, so taxi straight ahead to the end of 12L and turn left so that we cross over the very end of 12L. Continue to taxi straight ahead and cross over runway 12R. Hold short on runway 11. We will perform our runup there. Now as you approach runway 12R, be looking for aircraft on final just in case one has slipped in and we've lost radios, or Ground has missed that problem, or anything else screwy could happen. Never trust anybody fully when being directed around. It'll save your life one day, believe me!!!" See Figure 10.1.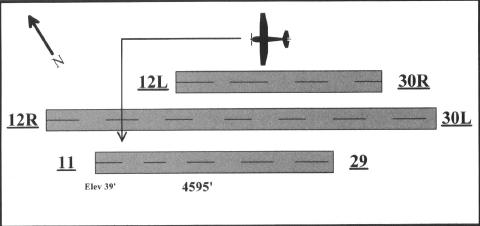 Figure 10.1. Taxi to runway 11.
RUN UP -
1) Set brake (hold down to prevent aircraft from moving)
2) Advance power to about "1750" RPM
**        3) Select CARB HEAT "ON", record RPM drop______(5 pts)
4) Select GARB HEAT "OFF"
**        5) Select "LEFT" Mag, record RPM drop___________(5 pts)
6) Select "BOTH" Mags
**        7) Select "RIGHT" Mag, record RPM drop__________(5 pts)
8) Select "BOTH" Mags
9) Reduce power to idle
10) Set FLAPS to first notch (10 degrees takeoff configuration)
"Make sure that you turn down the instrument panel lights during night flights. It's all important to be able to conserve your night sight so that you can see rotating beacons and wing lights, and the starship Enterprise while airborne. (Remember Star Trek IV?) Get your flight plan activated with Ground."
You:
"SAN JOSE GROUND, 13MIKE WOULD LIKE TO ACTIVATE ITS VFR FLIGHT PLAN TO OAKLAND INTERNATIONAL."
San Jose Ground:
"13MIKE, YOUR FLIGHT PLAN IS ACTIVATED TO OAKLAND AS OF 2052 LOCAL. HAVE A GREAT FLIGHT."
You:
"13MIKE, THANK YOU."
"So, it's 2052 local. I'll bet you we'll be on the ground at Oakland by a quarter after nine. If I'm wrong, I'll give you a free instruction period. If I'm right, you buy me some gourmet jelly beans! I'm addicted to them! Sound like a deal? Talk to Tower on 124.0. By the way, did you know that this runway's function is specifically as a touch and go strip?"
11) Tune COM to "124.0" (San Jose Tower)
You:
"SAN JOSE TOWER, CESSNA 13MIKE IS AT THE RUNUP FOR RUNWAY 11, READY FOR TAKEOFF."
San Jose Tower:
"13MIKE, YOU ARE CLEARED FOR TAKEOFF VIA A RIGHT DOWNWIND DEPARTURE. REPORT WHEN PASSING 1100 FEET."
You:
"13MIKE CLEARED FOR TAKEOFF. WILL REPORT 1100."
Table of Contents
Previous Section: Flight Scenario Ten: San Jose to Oakland: Setup
Next Section: Flight Scenario Ten: San Jose to Oakland: Flight