by Charles Gulick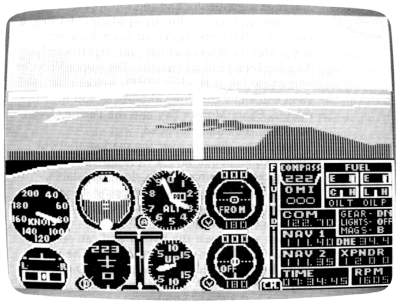 ---
Low Pass on
the Pacific

| | |
| --- | --- |
| North Position: 15393 | Rudder: 32767 |
| East Position: 5806 | Ailerons: 32767 |
| Altitude: 1220 | Flaps: 0 |
| Pitch: 358 | Elevators: 39935 |
| Bank: 0 | Time: 7:30 |
| Heading: 223 | Season: 2-Spring |
| Airspeed: 81 | Wind: 5 Kts, 180 |
| Throttle: 9760 | |


You're in a gentle glide to the southwest, with your aircraft pointed directly at Marina del Rey, a popular (wild, some say) boat basin between Santa Monica Municipal (on your right) and Los Angeles International airports. The airport to your immediate left is Hughes (PVT). A zoom-out radar view will show the three airports as you near the marina. Santa Monica Bay and the Pacific Ocean stretch in the sunlight ahead.
You'll pass directly over the marina at about 1000 feet, so you'll have a close-up view. Sit back and enjoy. Your aircraft is in slow, but stable, flight. (That little white spot slipping off your screen to the left is, exactly, nothing. Take my word. I checked it out.)
When you're past the harbor and can see only the inlet and ocean, take a rear view. The northsouth highway behind you is the San Diego Freeway (Interstate 405), and the road cutting in from the east is the Santa Monica Freeway (Interstate 10), which you could follow all the way to Jacksonville, Florida-if you had enough gas. In the background are the San Gabriel Mountains, about 20 miles away. Keep the rear view until you get a look at the marina from the ocean side, slipping away under your tail.
Now switch to a left rear view and take a low altitude glance at Los Angeles International Airport, behind you across the inlet. A right rear view will show you Santa Monica as it might look on the downwind leg of a landing approach.
Next look directly behind you again and see it all-a fine panorama of the shoreline, Marina del Rey, the San Gabriel Mountains, and finally a bit of Los Angeles International. Don't touch the controls until you have that whole picture. You're losing very little if any altitude, probably have between 700 and 1000 feet, and the Pacific is, of course, at sea level. So enjoy the view fully before you take over.




Now add power to get an rpm reading of 2000. While climbing, tune your NAV to the Santa Catalina VOR, 111.4, and get a heading. Then fly to that swank little island's airport, about 35 miles south. Tower is 122.7, elevation 1602. There you can fish, swim on some beautiful natural beaches, play tennis, or go horseback riding. William Wrigley, Jr., had his home on Catalina, and invested some of the fortune he made (selling chewing gum) to bring art and culture to the island. You can still find some of the chewing gum there, stuck under the seats in the movie theater.
Table of Contents | Previous Section | Next Section