by Charles Gulick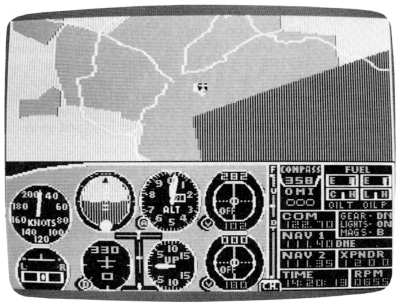 ---
Over on the
Mayflower

| | |
| --- | --- |
| North Position: 17901 | Rudder: 32767 |
| East Position: 21856 | Ailerons: 32767 |
| Altitude: 23 | Flaps: 0 |
| Pitch: 0 | Elevators: 32767 |
| Bank: 0 | Time: 14:19 |
| Heading: 330 | Season: 2-Spring |
| Airspeed: 0 | Wind: 3 Kts, 300 |
| Throttle: 0 | |


Your takeoff will be from runway 33 at Boston's Logan Airport, named for General Edward Lawrence Logan. (Who, you ask, was General Edward Lawrence Logan? For that piece of trivia you'll have to wait till the end of this flight.)
This is the shortest runway at Logan, so you can sit there for a few minutes without worrying about jets whooshing over your head and spraying your plane with kerosene.





Go into radar and zoom out until you have the upper-left corner of a rectangle of blue behind you and a little green on the left of your screen. The blue is a piece of Boston Harbor, where the water has tasted a bit like tea for a couple of hundred years (some of the tea from the party was actually preserved and is on display in Boston's Old State House).
The airport is a bit northeast of Boston center. Coming from Boston, you'd have taken Interstate 93, which is the highway snaking up on your left, and then a tunnel under a little finger of water which doesn't show on radar. The highway directly ahead of you is U.S. 1, which connects with I-93 at about eleven o'clock from your position. The highway farther west is 1-95, which traverses the east coast from Maine to Florida.





Tune your NAV to Boston VORTAC, 112.7, and set the OBI to read FROM on the runway heading. Your DME, which now reads about 0.6 nautical miles, will serve us as a mutual distance reference.





When you're ready, take off and climb straight out to about 1000 feet. Then, still climbing, do the better part of a 180 to the left, rolling out so that a green patch pointing into Massachusetts Bay is straight ahead of you.
Level off at 3000.





As you fly, go into radar and zoom out until you see a piece of land ahead that looks like the nose of a Concorde on final.





Before you leave radar, use a little left aileron to point your aircraft toward the tip of the big bird's nose. You'll probably find you're heading somewhere in the general vicinity of 130, but the exact number isn't at all critical.
You'll have nothing but the horizon where sky meets ocean for awhile, but keep flying.
When your DME reads around 14 miles, a bar of green will intermittently spring part way across your windshield from the right, paralleling the horizon. After popping in and out a few times, it'll pop in and stay put. The tip of it will be to the right of your course, but don't change course. Do, however, check radar once in awhile to see that you're still heading for the nose of the Concorde.





At about 20 miles out, check radar and zoom in another notch. The nose will rear up like something bit the bird.
After several more miles, the end of the bar paralleling the horizon (after a few tentative strikes) will seem to break off and form an island. Then it'll join up with itself again and be two adjacent bars. While this happens, the bars will move closer to the center of your windshield, too. This little episode will repeat itself as you fly. You're simply seeing more and more of the landfall, which is Cape Cod.





At about 34 miles out, zoom in another notch on your radar and again check that you're pointed toward the tip of the peninsula. As your DME creeps toward 37 miles, the tip should be just about in the center of your windshield. Just when it appears there depends on how exactly you're flying up the nose of the big bird.





At 37 miles out, at any rate, back off your throttle a few notches to lose some altitude.
What your aircraft is pointed at is the extreme tip of Cape Cod, and of the state of Massachusetts. The very tip itself has a name: Race Point. Tiny, desolate, and almost surrounded by ocean, Race Point is a wind-whipped, lonely promontory, where, as Thoreau said, "All America is at your back."
Two miles southeast of Race Point is a fishing town with a most interesting history: Provincetown, Massachusetts.





As you continue your descent, give a touch of right aileron so that you're aimed just a little bit to the right of Race Point. This will take you directly over Provincetown.
You won't see it in the simulation, but you're also going to fly over a hill, called Monument Hill because there's a tall monument there. In a moment, we'll find out what it's a monument about.





As the landfall begins to slip under your nose, take a view directly below you, not a radar view, but a ground view, which at this moment shows you not ground, but the water you're flying over.





Now immediately rest your finger on, and be ready to press, P for Pause. Then, when land appears directly below you, press the P.
What you're looking down at is a very historic piece of coastline. For, on the stretch of beach below you, on November 11, 1620, the Pilgrims from the Mayflower made their first landing. And just offshore, in the cabin of the ship (and, one might say, in their first act of chauvinism on this side of the Atlantic), the male passengers of the Mayflower signed the Mayflower Compact, naming themselves and their families a body politic and establishing a local government.
The monument on Monument Hill in Provincetown is, of course, a memorial to the Pilgrims.




Unpause when you're ready, and fly back either to Logan International or, if you feel like it, down to Martha's Vineyard. In either case, Pilgrim or not, demand an excellent landing of thyself.
For you trivia fans: Logan International Airport is named for General Edward Lawrence Logan. General Logan held various offices in Boston, but is best known for his work on behalf of the poor and for his military leadership in the SpanishAmerican War and World War I. His combination of civic work and military activities led to the airport being named for him. He died in 1939.
Table of Contents | Previous Section | Next Section