Air Combat Simulator Tactics and Maneuvers
by Richard G. Sheffield
Pitch Back
Situation:
You're attacking your opponent head-on with at least 500 knots of airspeed.
Maneuver:
You're in a head-on pass (1).
Pull up into a loop maneuver (2).
At the top of the loop, keep the stick pulled back (3).
When you're heading straight toward the ground, start to turn toward the enemy while pulling out of the dive (4).
Instead of finishing the loop heading in your original direction, you've turned on the way down and should finish in a hard turn behind your opponent (5).
Note:
This kind of maneuver is called an out-of-plane maneuver—you're maneuvering in the vertical plane while your opponent is in a flat turn.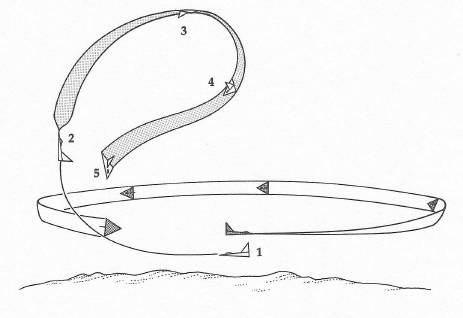 This maneuver looks tricky—and it is. Pull back hard on the stick, loop, and then turn behind the target if it's there.
Table of Contents | Previous Chapter | Next Chapter