by Charles Gulick
Regent's Park Final
Chart: Southern UK
Title: REGNTS PK FINAL
En Route Coordinates:
Aircraft: N18652, E13749
Tower: --
Altitude:
Aircraft: 1000
Tower: --
Heading: 328
Time: Dawn (06:01)
There being no airport close to London, we'll create our own. And while we do that we'll have a look at the city lights--a new simulator feature inaugurated in the Western European Tour disk.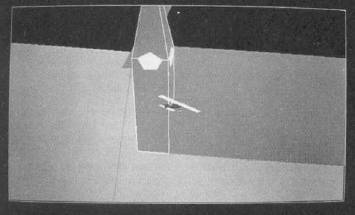 Just above Parliament
Your landing approach over the Thames gives you a great view of the Houses of Parliament and Westminster Abbey (note Kensington Gardens/Hyde Park and The Serpentine to the left of your course). The view gives you some idea of the vast London metropolitan area.
The patch of green directly ahead, where you'll land the airplane, is Regent's Park. First designed by famous British architect John Nash (1752--1835) as an elegant residential area, it was turned into a public park instead. It contains Queen Mary's Garden in a section called Inner Circle, but if you land on the left edge, one of two Outer Circles, you'll not trample any flowers.
The tower on your right as you descend is, I believe, the Post Office Tower named in the documentation. But it may be a quite recent addition, since I find no mention of such a tower in my references. Elevation of Regent's Park is 86 feet.
Table of Contents | Previous Section | Next Section