by Charles Gulick
Ringing Big Ben
Chart: Southern UK
Title: RINGING BIG BEN
En Route Coordinates:
Aircraft: N18663, E13733
Tower: --
Altitude:
Aircraft: 260
Tower: --
Heading: 108
Time: Daylight
You are directly over Kensington Gardens, at very low altitude. The swath of water is called The Serpentine. It's actually an artificial lake, on the other side of which is Hyde Park. Kensington Gardens and Hyde Park together comprise the largest public park in central London. The Serpentine is large enough for Londoners to enjoy sailing and boating on it. Not simulated is a small body of water called Round Pond, much in favor with model yachting enthusiasts.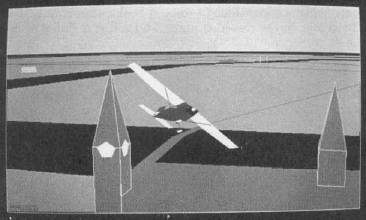 Broad turn around the tower
Your flight path toward the Houses of Parliament will also take you over Buckingham Palace, which in the simulation is simply a solid rectangle. The palace is, of course, where Queen Elizabeth II lives, and the scene of the famous changing of the Queen's Guard. She must not be in residence today, otherwise the Royal Standard would be flying above the building.
To your right (pause when you're close to the big clock tower, and take right side views) is Westminster Abbey, somewhat more shapely than Buckingham Palace, though without surface details. Actually, this is London's greatest Gothic church, site of the coronation of English kings and queens since the days of William the Conqueror. It was originally a Benedictine monastery. It is also the gravesite of many renowned English poets--Browning, Chaucer, Dickens (though he was not a poet), Dryden, Thomas Hardy, Samuel Johnson, Kipling, Spenser and Tennyson--in the Poet's Corner. The Tomb of the Unknown Warrior, also in the church, honors the fallen of World War I.
The real sightseeing treat in this scenario is the Houses of Parliament or, as it's called officially, the Palace of Westminster. Keep your altitude low and try flying just to the right of the Big Ben tower. The clockfaces are simulated, and you can almost see the hands.
The famous clock tower stands 315 feet high, and Big Ben itself, whose deep-throated chimes can be heard all over London, weighs more than 13 tons. If Parliament is in session, a light shines in the tower at night, and a flag is flown atop it in the daytime.
Table of Contents | Previous Section | Next Section