by Charles Gulick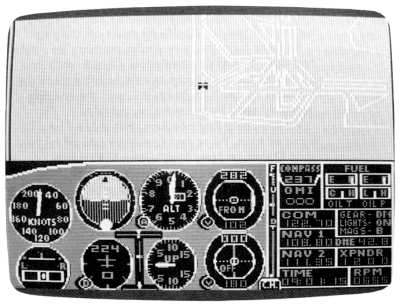 ---
The Great
Beyond

| | |
| --- | --- |
| North Position: 17029 | Rudder: 32767 |
| East Position: 21073 | Ailerons: 32767 |
| Altitude: 13 | Flaps: 0 |
| Pitch: 0 | Elevators: 32767 |
| Bank: 0 | Time: 9:00 |
| Heading: 224 | Season: 2-Spring |
| Airspeed: 0 | Wind: 6 Kts, 180 |
| Throttle: 0 | |


Ever wonder what lies beyond the charts? What happens if you fly 20, 30, 40 miles off the page?
So have I. So this nice spring morning let's both find out. With your permission, I'll ride with you. I'll record the whole trip exactly as it happens (in realtime, no less!), right on this and the ensuing pages, so we'll both have a record of it.
We may be going nowhere, but at least let's leave in style. We're positioned for takeoff on runway 22, left, at New York's John F. Kennedy International Airport. (Precisely, we're heading 224 to 225 degrees. I know we're a bit off-center, but this is a wide runway.)





Tune your NAV to the Kennedy VORTAC, 115.9, and set the flag to FROM, if it's not already reading that, so we'll have a distance reference. You don't have to center the needle, because we're going to fly contact.
The idea I have is to make a straight-out departure from Kennedy. Our takeoff will be over Jamaica Bay, and if we hold the 224-degree heading, we'll fly straight toward New Jersey's Sandy Hook, which you can see in the lower-left corner of the New York-Boston area chart. A turn directly to the south as we approach Sandy Hook will point us straight down the New Jersey coast, with the seashore resorts on our right and the Atlantic Ocean on our left.





Let's give it a whirl. Go ahead and take off.
We can see the water as soon as we have a hundred feet or so of altitude. And before the DME reads one nautical mile, we can see-land, ho!





Let's level off at 3000. That seems like an optimum altitude for our observations.





Radar views, from either high or low altitude, can be deceptive. For instance, if we take a high altitude view over Lower Bay, which we reach a few minutes after takeoff, the Atlantic Ocean has turned to green grass. Either that or there's an awful lot of seaweed out there. But in its own time the simulator develops what it wants to develop for us. As I scribe this, I have no idea whether it'll be grass from here on or not. Remember, while I'm writing this I'm experiencing it for the first time just like you.
Well, there was just a disk access, wasn't there? The DME reads 7-odd nautical miles from Kennedy. Is that goodbye to everything? Or hello, New Jersey? The manual does say that the simulation covers 10,000 X 10,000 miles. Not in great detail, maybe. But I'll settle if I see a coastline and an Atlantic Ocean for 20 or 30 or 40 miles.
I'm wondering what that little black dot is, left of center on the shoreline ahead.





Now, suddenly (believe me, exactly as I write this), there's what looks like a city or a large airport ahead. I haven't a clue as to what it is. The DME reads between 12 and 13. The heading is still 224. And we're at 3000.
But it's a phantom. As suddenly as it appeared, it's gone. Did you see that? Was it Atlantis? A sea monster? A mother ship swooping in for reconnaissance?
Well, the black dot's gone, too.
At 21.6 from Kennedy, I have the dot in sight again, and I've come to a conclusion. It's simply one of those jagged shoreline points entering the simulation. Each one starts as a dot, I guess. Do you agree?





Take a look on radar. Still nothing of interest.
It occurs to me that we should be over land by now. In fact, we should have been over land about 10 miles ago. New Jersey is only about 17 miles from Kennedy on this heading. Something is amiss.





Turn left to a heading of 180.





Switch in your radar and experiment some.
There's a shoreline, all right, and we're flying alongside it. But toward what? More of that massive seaweed. So thick you could cut it with a lawn mower.
And look out the left side. More of the same. Unless we're looking at Spain there across the Atlantic. It's certainly not Long Island this far south.
Try a view straight back.
Now that makes some sense. That looks like where we've come from. Is it possible that if we flew TO rather than from JFK along the Jersey coast, we'd have more realism?





But for the moment let's continue straight ahead and see if anything opens up. Let's fly south until the DME reads 40.





Better yet, let's fly until we see if the seaweed ahead opens up. If you check radar, you'll see we're headed for a world of green. What'll happen when we cross that line of demarcation and leave the ocean behind us?
Perhaps it's a new overseas highway Bruce Artwick has fashioned.





One thing is sure, if it's earth, we should be able to land on it. Are you game? If you are, check radar until you're sure you're over land, then set her down straight ahead. That's what I'm doing.
A nice flat approach makes sense, because we have no idea of the altitude of this place. And zilch in the way of visual references. Below a thousand feet, try to set up a descent rate of 500 feet per minute or less, with a speed just above stalling. And simply wait, because you'll have no idea when you should flare. At least I don't think so.
Now, 700...600...500...400...300...200-if it gets close to 0 then perhaps it's right AT sea level, so you can flare after all-100...75...50...
Well, now, what do you think of that? That's what I call high-protein seaweed!
Perhaps you want to quit now. Or maybe turn around and fly back up the coast to see if the perspective is different and the world more real going that way. That's what I'm going to do.




But, first, let's true the altimeter and go into the edit mode to check what altitude we're actually sitting on.
Hmmph! Must be low tide.

My conclusion from this trip is that the part of the simulator world which isn't on the area charts is, ultimately, all green. A few miles or minutes beyond the edges of the charts is a Great Beyond of green. A green North Pole. A green Siberia. A green Indian Ocean.
But I have a suggestion (submitted humbly indeed): The Great Beyond should be blue.
For blue is what this little aimless speck of dust in the infinity is and what it appears to be when seen from elsewhere. Blue. The blue of water. The pale blue of polar ice. The blue of distant mountains. The blue of nearly 140 million square miles of oceans, lakes, and waterways.
Table of Contents | Previous Section | Next Section