by Charles Gulick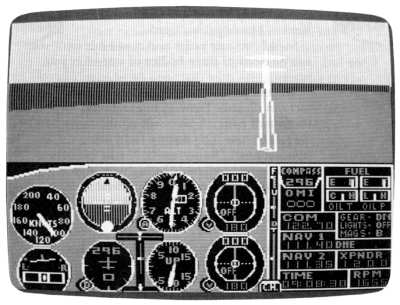 ---
Threading the
Needle

| | |
| --- | --- |
| North Position: 21344 | Rudder: 32767 |
| East Position: 6611 | Ailerons: 32767 |
| Altitude: 30 | Flaps: 0 |
| Pitch: 0 | Elevators: 32767 |
| Bank: 0 | Time: 9:00 |
| Heading: 293 | Season: 2-Spring |
| Airspeed: 0 | Wind: 7 Kts, 4 |
| Throttle: 0 | |



You're ready to taxi into position for runway 33 at Renton Municipal in Seattle.
Switch in your radar and zoom out until you see portions of three bodies of water on your screen.
To your left is Puget Sound, with Henry M. Jackson (Seattle-Tacoma) International Airport on its eastern bank. A bit north on the same highway, Interstate 5, is Boeing Field (King County) International. The water you'll take off over is Lake Washington, and the highway running alongside it is Interstate 405. Interstate 90 sweeps in from the east, and the little lake just to the right of it is Lake Sammamish.





We'll be flying contact at 1000 feet, so get lined up heading 330 degrees and take off when you're ready. Use a shallow climbout so that you'll be able to see the landscape over your nose.
At an altitude of about 500 feet, you'll see Mercer Island straight ahead. Hold your heading and continue your climb.





As you're leveling off at 1000 feet, turn left to a heading of about 300 degrees. You'll see some tall buildings out your windshield. Point toward the center of the cluster of them. Shortly, the simulator will access its disk, twice in the space of a few minutes. Then a single tower will stand forth-the Space Needle at Seattle Center.
Head straight toward the building and plan to fly over it at about 1000 feet. As you get closer, you'll see what looks like an observation tower at the top. This is a revolving restaurant, which offers a beautiful panoramic view of Seattle, Puget Sound, Mount Rainier, and, directly below, for the diners in the restaurant, other features preserved, like the Space Needle itself from the 1962 World's Fair.





The moment the Space Needle disappears under your nose, take a straight-down view. You'll get a dramatic close-up of the circular restaurant passing below you. Then set a direct rear view and see it recede off your tail, with Mount Rainier in the background.





When you're well out over Puget Sound, do a 180 and have another pass at the Space Needle.
The southernmost highway crossing Lake Washington, and intersecting Mercer Island, is I-90, ahead of you. When you can spot the runway at Renton, get into configuration to set down again on runway 33.

Table of Contents | Previous Section | Next Section