by Charles Gulick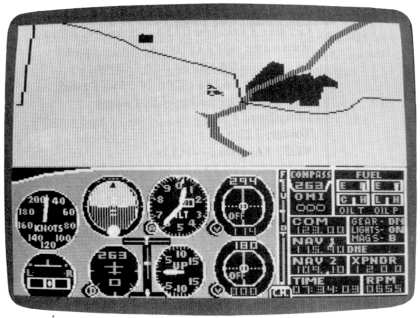 ---
Gather by the
River
Tie-Down III

| | |
| --- | --- |
| North Position: 16846 | Rudder: 32767 |
| East Position: 16598 | Ailerons: 32767 |
| Altitude: 624 | Flaps: 0 |
| Pitch: 0 | Elevators: 32767 |
| Bank: 0 | Time: 7:30 |
| Heading: 263 | Season: 1-Winter |
| Airspeed: 0 | Wind: 0 Kts, 0 |
| Throttle: 0 | |



Greater Kankakee (IKK), Kankakee, Illinois


Runways:

4/22 (5100 X 100)-Paved, centerline if in Cessna
16/34 (3200 X 75)-Paved, centerline if in Cessna


Elevation:

624


Tower:

123.0


VOR:

Kankakee-111.6






Use radar and zoom to an altitude which puts a small, rectangular city on your screen at about ten o'clock. That's Bloomington, Illinois, about 60 nautical miles southwest of where you're tied down (shows you how far-reaching radar is sometimes).

Kankakee, of course, is the city to your right, population about 30,000. The highway crossing the entire screen is Interstate 55, which runs diagonally across the state from Chicago to the banks of the Mississippi at St. Louis, Missouri. The river behind you is the beautiful Kankakee, which was introduced in the first book of Flight Simulator adventures. It climbs out to the north and west and joins up with the Illinois River near Joliet. The simulator Kankakee River, however, doesn't simulate that far.

The patchwork occupying most of the left-hand portion of your screen is simply a patchwork occupying most of the left-hand portion of your screen. Maybe it's farms. Or a primitive chessboard for ancient astronauts.

Your nearest airports are Sanger to the north and, if you're flying the Piper, Dwight to the west. Dwight appears in the Microsoft manual, but like a number of other airports, it's nowhere to be found in the Cessna simulation, at least in my version. I'm missing five airports in the Chicago area alone-Bloomington, Vermilion County, Gibson City, and Paxton-in addition to Dwight.

Farthest airports are University of Illinois Willard to the south and Chicago O'Hare to the north.

The most scenic flight is in and around the city and the river themselves. Or you could go south if you want to try to find a chess partner. A daytime flight makes the most sense. At dawn, dusk, or night you won't see the river.




Choose and make one of those cross-country flights now, selecting a destination and a flight path by reference to your chart, first inserting a random surface wind, and any kind of weather you want, into the editor.



Location and taxiing information

. Your tiedown is on the grass facing the taxiway. It leads to the fuel station (in the Piper you can play the fun game "Find the Fuel Pump") and to runway 4. For runway 4, you taxi ahead, take your first right, then first left, followed by a 180 to the right and the runway. For runway 22, you taxi ahead, take your first right, then another right, following the taxiway all the way to the end. Then it's a 180 to the left and the runway. Runway 34 is directly behind you. As for runway 16, just follow 34 to its opposite end, using the grass alongside the strip.
Table of Contents | Previous Section | Next Section