by Charles Gulick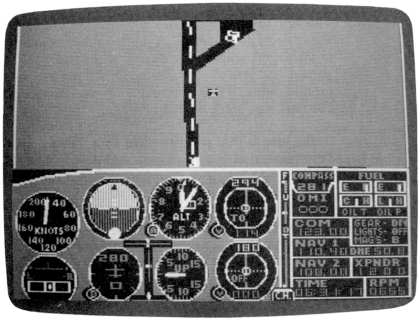 ---
Island
Getaway
Tie-Down I
| | |
| --- | --- |
| North Position: 17352 | Rudder: 32767 |
| East Position: 21750 | Ailerons: 32767 |
| Altitude: 105 | Flaps: 0 |
| Pitch: 0 | Elevators: 32767 |
| Bank: 0 | Time: 6:30 |
| Heading: 280 | Season: 2-Spring |
| Airspeed: 0 | Wind: 0 Kts, 0 |
| Throttle: 0 | |
This and the following two adventures introduce the concept of
tie-downs
. A tie-down is a position at an airport where your aircraft is normally parked and lashed to stakes or something in the ground, with wheels chocked and-you hope-no For Sale sign stuck on the fuselage.
The idea is that you can have your Cessna or Piper parked at your own personal tie-down at any and all airports of your choice in the simulator world. Then, anytime you want to take a flight from a given location, you load the mode (which you've saved on disk) and there's your plane, parked in your own personal spot, ready for you to climb in and go.
The other side of the coin is that, when you fly to or back to an airport where you have a tiedown, you land and then taxi to that spot before you shut down. It's all part of the realism. Whoever heard of landing at an airport and leaving the plane on the runway?
Some of the desirable attributes of a simulator tie-down include:
• Centrality to runways we'll use, without necessarily favoring any given strip.
• Realistic view out front when we enter the mode. • Optimum radar view for orienting ourselves to runways, taxiways, fuel stations, and so on.
• Good nighttime aspect, with good taxiway visibility.
Our present tie-down is at Block Island State Airport, Block Island, Rhode Island.
Since a tie-down airport is a form of "home" airport, we also want to have the vital statistics about it jotted down somewhere. Such as:
Runways:

10/28 (2500 X 100)


Elevation:

105


Tower:

123.0


VOR:

None (meaning no OMNI station within a ten-mile radius, such as you could home on when inbound)
This type of information is useful to have in a black book in your flight bag to refer to whenever you're flying. From it, you can pick a tie-down airport of convenience when you feel like landing, and you'll have vital statistics for contacting the tower, getting to pattern altitude, and making your approach.
You'll also want to know something about the area surrounding each "home" airport, so you'll feel more at home. Like:
Block Island is in Block Island Sound (Atlantic Ocean) approximately 14 miles off the southern coast of Rhode Island. It is about 16 miles east and a bit north of Montauk Point, the easternmost tip of Long Island. Nearest airports are Martha's Vineyard VOR (108.2), and Chester, 12 miles northeast of Madison VOR (110.4). Farthest airports are La Guardia or Kennedy via Hampton (113.6), Deer Park (111.2), and La Guardia (113.1); or via Kennedy (115.9).
Most scenic flights: west over Long Island or its north or south shore; east over the water to Martha's Vineyard, paralleling Rhode Island shoreline.
Select one of these flights, think up a surface wind and some weather conditions for the editor, and go flying when you finish this adventure.
Location and taxiing information.
You're parked on the grass and parallel to runway 28, visible on the left of your windshield. The tarmac ahead of you leads to the fuel area, also visible ahead.
For runway 28, do a 180 to the left, taxi to the end of the runway, and do another 180 over the numbers.
For runway 10, taxi straight ahead on the grass, crossing both taxiways, and do a 180 to your left over the numbers. Traffic permitting, you may also taxi on the runway itself, or in the case of runway 10, follow the taxiway (between the blue lights at dusk or night) through the fuel area, then left, then right along the strip to the numbers.
This is a short runway, so don't waste any.
Once you have a tie-down like this on a custom disk, you can load it and change the time, the wind direction, the weather-any or all three of them to suit yourself.
And remember, whenever you land here, go back to
your
tie-down. If you find some other aircraft parked there, you can let the air out of its tires. Or at least leave a nasty note.
Table of Contents | Previous Section | Next Section