Air Combat Simulator Tactics and Maneuvers
by Richard G. Sheffield
Dive Bombing
The standard bomb delivery technique is dive bombing. A dive bombing checklist should read like this:
Check that you're at 100 percent power.
Go to 4000 feet (1).
Line up on the NAV indicator on the screen (assuming you've already positioned the NAV cursor over the target). Place the NAV indicator as close as possible to the center of your screen to reduce last-minute maneuvering.
When the blue target-designator triangle appears, arm your bombs.
Make any last-minute course adjustments and begin a 30° dive. The horizon should be level and on the third indicator line (2).
When the bomb sight is well within the target area, release the bombs (3).
Pull out of your dive (4).
Pinpoint dive bombing is a you'll need to practice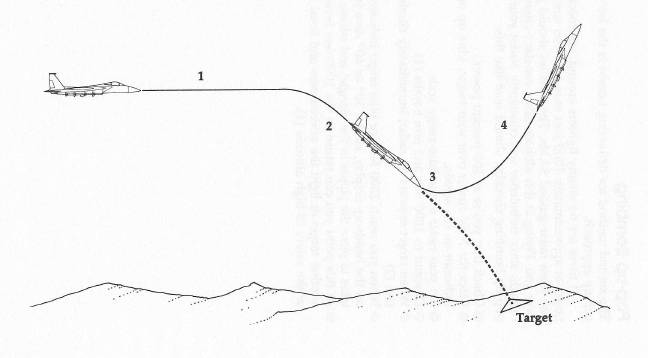 Table of Contents | Previous Chapter | Next Chapter