Air Combat Simulator Tactics and Maneuvers
by Richard G. Sheffield
Pop-up Bombing
The second method for delivering bombs is the low-level or pop-up approach.
If there are no enemy fighters around, approaching the target at approximately 1000 feet may give you some protection from radar-guided SAMs. The missiles should pass right over you. Flying at this altitude takes constant attention, though, since turbulence will constantly buffet your aircraft. A pop-up bombing checklist should read like this:
Check that you're at 100 percent power.
Place the NAV cursor over your target. Line up on the NAV indicator on the screen.
Set your radar to medium-range scale.
Descend to 1000 feet and arm bombs (1).
When target appears on radar, immediately climb to 2000 feet (2).
When you reach 2000 feet, or blue target indicator appears on the heads-up display, start a 30° or 40° dive (whatever it takes to place the pipper in the triangle) and release bombs (3).
At this point you can return to the 1000-feet level to attack another target or light the afterburners and head for home or the safety of high altitude (4).
Use this pop-up bombing technique when you want to fly in under the enemy's radar.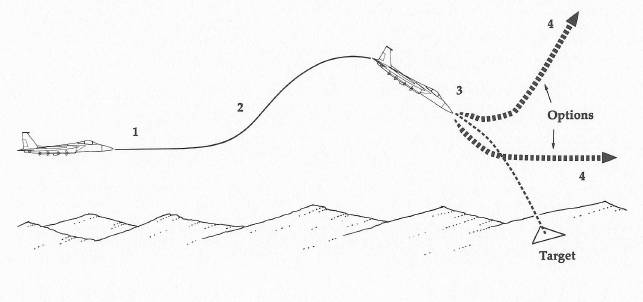 Table of Contents | Previous Chapter | Next Chapter