Air Combat Simulator Tactics and Maneuvers
by Richard G. Sheffield
Cautiously Aggressive
To attack two opponents, your aircraft must be undamaged, and you should have adequate fuel and weapons. But maybe you're still carrying bombs you'll need for a ground attack later—now is a good time to consider a cautious attack.
Arm and fire a medium-range missile at one opponent (1).
Light the afterburners and fly head-on toward the second aircraft, offering the worst possible missile target (2).
Pass beneath the enemy and try to obtain 10–20 miles of separation.
Shut down the burners, but stay at 100 percent power.
Keeping up your speed, make a broad sweeping turn, staying out of short missile range but within range for your medium-range missiles (3).
Keep firing Sparrows at your opponent until one strikes home.
Close in for a one-on-one with the other target.
Figure 11-1. Cautiously Aggressive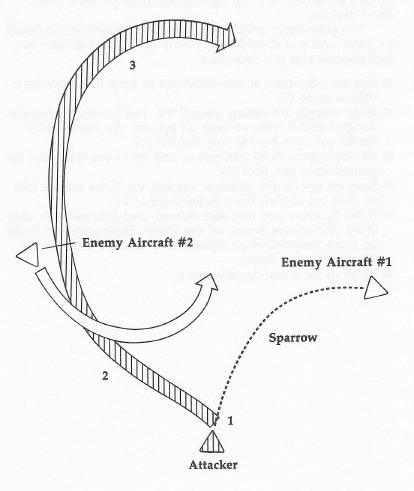 Table of Contents | Previous Chapter | Next Chapter