Air Combat Simulator Tactics and Maneuvers
by Richard G. Sheffield
Split-S or Descending Half-Loop
| | |
| --- | --- |
| Minimum Speed | None |
| Minimum Altitude | 10,000 feet (fully loaded on afterburners) |
| | 3,000 feet (no bomb load and 55% power) |
You're flying straight and level (1).
Apply full left or right stick (2).
Stop the aircraft's rotation once you reach an inverted position and are flying straight and level upside down (3).
Pull back on the stick and hold until the horizon comes up. Stop when the horizon is level (4).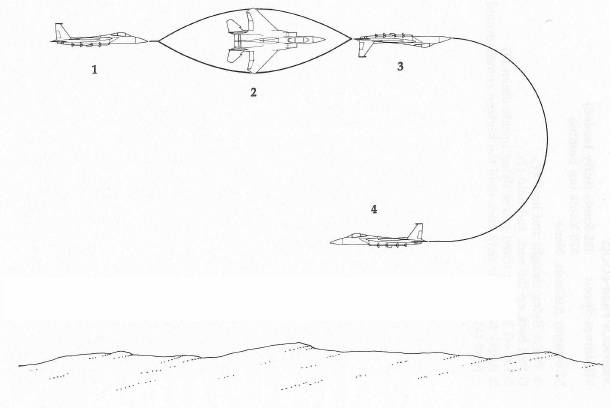 The Split-S maneuver is one you can use to quickly lose altitude while making a 180° turn.
Table of Contents | Previous Chapter | Next Chapter