by Charles Gulick
The Frauenkirche
Chart: Southern West Germany
Title: FRAUENKIRCHE
En Route Coordinates:
Aircraft: N17015, E16837
Tower: --
Altitude:
Aircraft: 2226
Tower: --
Heading: 110
Time: Daylight
The focus of attraction on Munich's skyline is the massive, twin-towered Cathedral of Frauenkirche. It was severely damaged in World War II, but has since been restored.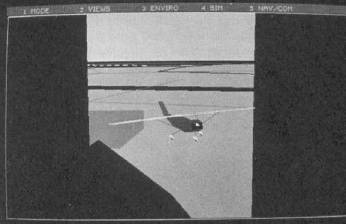 Right through the middle...
Just beyond the church are a group of buildings that began as a fortress, and once housed Bavarian rulers. Called simply Residenz, it has been carefully reconstructed following its virtual destruction in World War II. Inside are numerous sections, including a treasury of jewels, a museum containing the original palace furnishings, and a rococo theater in which Mozart conducted his musical works. In another theater, op-eras are still performed today.
Alongside Residenz is the Hofgarten, a small park. Beyond that you can see just a bit of a much more spacious park, Englischer Gallen, or the English Garden, a romantic place with a hilltop temple, a Chinese pagoda, pleasant paths among trees and flowers, a lake for swans, and an open-air restaurant. You can see the expanse of the English Garden out the left side before you unpause.
If you like, make one pass at Frauenkirche just for viewing, and then another in which you lose some altitude and try to squeeze between the towers. (Rest assured there's plenty of room to accommodate your wingspan. I know because it says so right here.)
Table of Contents | Previous Section | Next Section