by John Rafferty
Chapter 27
Aircraft Ferry Service: Spanaway to Port Angeles
The worst of the wet season now seems to have passed. There's been plenty of rain and drizzle in recent weeks, and you've had more than your fair share of flying in actual IFR conditions. For the past few days, however, it's been clear and sunny throughout most of Washington state. As a result, today's assignment is a welcome change.
You're one of the regular staff at Hammond Aviation, the small FBO at Spanaway, and today you have an easy ferry flight up to the northwest. The aircraft in question has a high-time engine that's due for a major overhaul, and you're to take it up and leave it at a repair facility at Fairchild International in Port Angeles.
To take a break from the usual routine, you bow to the excellent weather and decide to go VFR; it will be nice for a change not to have to talk to any controllers. However, because you'll be passing over some fairly remote terrain, you decide it would be prudent to at least file a VFR flight plan, just to be safe. That way, you can still take things a bit casually en route and pretty much ignore the radio, but should you run into some kind of trouble they'll at least have some idea of where to start looking.
Preflight
Excellent VFR conditions prevail throughout the area of your flight. You can expect to have moderate winds—surface winds from the northwest at about 10, and winds aloft from the north to northeast at roughly 30.
You select a simple route—direct to McChord, direct to Seattle, direct to Paine, and from there direct to Fairchild International. That's hardly the shortest route, of course, but it keeps you over the more settled areas. So, just before departure, you call Flight Service and file VFR for that route at 3000 feet.
| | |
| --- | --- |
| Program Setup Values | |
| North | 21202 |
| East | 6501 |
| Altitude | 0 |
| Heading | 090 |
| | |
| Wind | Surface to 1000 feet: |
| | 350 degrees at 10 knots |
| | Level 1: 1000–2000 feet: |
| | 010 degrees at 20 knots |
| | Level 2: 2000–9000 feet: |
| | 040 degrees at 35 knots |
| | |
| Season | Spring |
| Time | 0900 hours (9:00 a.m.) |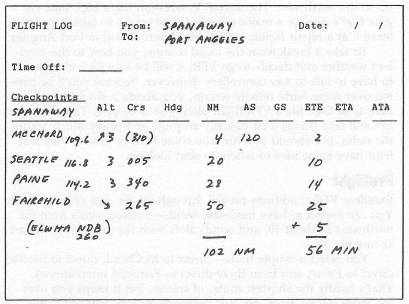 Figure 27-1. Flight Log to Port Angeles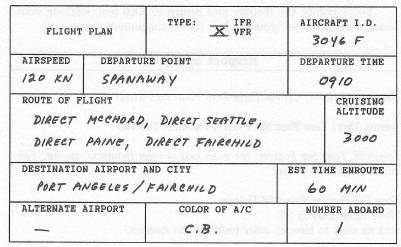 Figure 27-2. Flight Plan to Port Angeles
Departure
---
On the Ramp at Spanaway
---
You taxi onto the runway pavement, turn right, and taxi down to the end. Then you turn, take off on Runway 34, and home on McChord.
---
10 Miles DME After Paine
---
The engine sputters, restarts, sputters, and stops running entirely. The prop continues to windmill, but the engine is dead. (Move the throttle back to idle speed.)
You quickly go through the standard engine-failure routine: fuel (from right tank to both tanks), mixture, mags, carb heat, and so on.
(The engine suddenly restarts.)
You advance the throttle and return to 3000 feet, shaking your head in dismay over your foolish fuel-management error.
---
Airport in Sight
---
Fairchild Unicom, Cessna Three Zero Four Six Foxtrot.
Cessna Three Zero Four Six Foxtrot Fairchild Unicom.
Fairchild, Four Six Foxtrot, ten miles east at three thousand, landing Fairchild, which way please?
Four Six Foxtrot Fairchild Unicom
We're using Runway 25
And we seem to have no other traffic at the moment.
Thanks, Four Six Fox.
---
On Final Approach to Runway 25
---
On Unicom, indicate your position.
---
On the Runway
---
You taxi to the end of the runway, turn left, and proceed to the engine overhaul facility at the edge of the ramp.
Hertz is completely booked, so you hitch a ride to the Trailways terminal.
Table of Contents | Previous Chapter | Next Chapter