A pilot's guide to destination cities in Flight Simulator
by Charles Gulick
Panning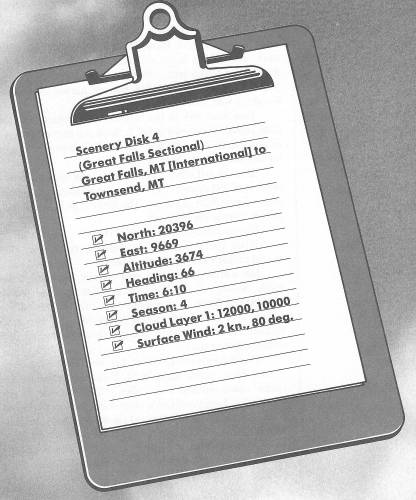 Looks and feels like it could snow, doesn't it? This is what you call a gray, gray dawn. But the overcast is way up there, and we'll fly under it. In approximately 20 minutes it will be daylight.
Great Falls, Montana, is where the famous cowboy artist Charles Marion Russell (1864-1926) did most of his work. He had his home and studio on the corner of 4th Avenue and 12th Street, which is now a gallery open to the public. He painted frontier life, Indians, horses, cattle, and the plains with great skill and care.
Tune your NAV to the Helena OMNI, which is at the state capital. Frequency is 117.7. You'll see that we're about 60 miles from there. We'll fly toward Helena briefly, before turning southeast to Townsend.
Take off and climb to 4000 feet, then turn right to a heading of 180 degrees. You'll see the southern end of the city of Great Falls as you go. The highway is Interstate 15, and the river is the Missouri.
Plan on a cruise altitude of 5500 feet.
When you're heading 180 degrees, crank your OBS around to that radial and fly the needle.
Just a little northeast of your present position, on the southern shore of the Missouri, is Giant Springs, where fresh water flows at an unbelievable rate of 389 million gallons a day, at a year-round temperature of about 52 degrees. Now, how would you go about measuring 389 million gallons a day?
This is Lewis and Clark country, too. Their expedition in 1804-1805, which began in St. Louis and ended on the Pacific coast, covered more miles in Montana than in any other state. Lewis and Clark were dispatched by President Thomas Jefferson, who charged them to explore the just-acquired territory of the Louisiana Purchase. In their expedition they had with them an Indian woman named Sacagawea to serve as an interpreter and guide, along with Sacagawea's husband.
At daybreak, or perhaps a little before, you'll make out the edges of a body of water somewhat to the left of your course. It's Canyon Ferry Lake, which we'll follow shortly to Townsend Airport. Don't forget to turn your lights off.
While you're still pointed toward Helena, know that in 1864 a quartet of grim prospectors from Georgia stumbled into a rocky gulch—they dubbed it "Last Chance Gulch" because they were ready to give up—and struck gold where Helena's main street is now. They became rich, and some $20 million worth of gold, plus large deposits of silver and lead, have been mined there since. Helena became the state capital of Montana in 1889. In the summer, you can take a historical "Last Chance Gulch Tour," and also witness a thunderous "Last Chance Stampede."
However, the city of Helena is not simulated, so there's no point in flying all the way to 0 DME. When you're about 15 NM out, turn left to a heading of 140 degrees and you'll have Canyon Ferry Lake out the front of your windshield. The highway you see beyond is east/west Interstate 90, though it's far south of our destination.
When you are closer to the lake, follow its contour and stay pointed straight down the middle. It'll lead you to the threshold of Runway 16 at Townsend Airport, and you'll enjoy some nice shoreline scenics, together with a picturesque over-the-water final approach.
The elevation at the airport is 3900 feet.
Table of Contents | Previous Chapter | Next Chapter