A pilot's guide to destination cities in Flight Simulator
by Charles Gulick
Halfway to the Stars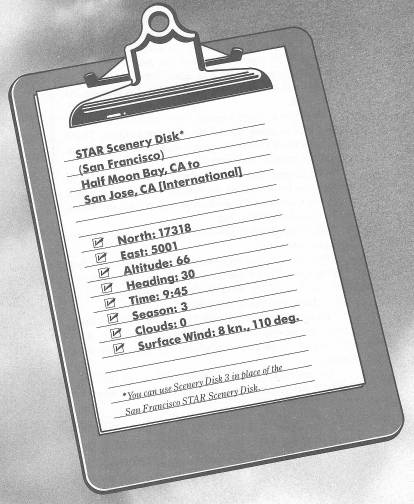 Now that you've had your maiden flight aboard the STAR disk, let's head back to our home airport, San Jose. As I said in the last chapter, we'll always go back to where we came from when flying the San Francisco Bay area. That way you'll get very familiar with all the geography and scenery that's out here, and still have a place to stay for the night. Sometimes we'll fly a triangle and make an extra landing or so, but our ultimate destination will invariably be that neat little airport at the junction of U.S. 101 (also known as the Bayshore Freeway) and U.S. 17 (also known as the Nimitz Freeway).
Speaking of triangles, we'll take a roundabout route back to San Jose this morning, first flying northeast to look at some features of the shoreline on this side of the bay. You can see one of them now, San Bruno Mountain.
The runway numbers here at Half Moon International (actually, this airport is northwest of the town of Half Moon Bay, on a little stretch of land called Pillar Point) are the same as at San Jose Airport. The wind hasn't shifted, so our takeoff is on Runway 12.
Taxi over to the threshold, turn upwind, and take off.
As soon as you have 500 feet of altitude, execute a left turn to head approximately due north, or toward the center portion of San Bruno Mountain.
In this case, we want to cruise over the top of the mountain, so continue climbing at about 500 FPM. The highway cutting across your course and skirting San Bruno is Interstate 280. On the other side of the mountain it joins up with the Bayshore Freeway, U.S. 101.
You will be about over Pacifica now, which is off to your left, approximately opposite San Francisco International Airport. You'll be able to see the airport out the right side window immediately after the disk access.
You're also flying over the San Andreas rift zone.
Level off at 2500 feet. You're well clear of the summit of San Bruno. And now you can see U.S. 101 running along the bayshore and begin to make out the San Francisco-Oakland Bay Bridge.
As you come up on the mountain, look out the right side window for an excellent view of San Francisco International Airport's runways, and of the San Mateo-Hayward Bridge.
But speaking of views, be ready for a breathtaker, signalled by another disk access.
Now the heart of San Francisco lies spread before you, from the foot of San Bruno Mountain to the Golden Gate.
There's no way you can take in all of this scene, which stretches left and right as well as ahead of you, on a single fly-over. We'll do some more, but now pay attention to the downtown area, which lies north of the San Francisco-Oakland Bay Bridge. The main street, beyond which the buildings are clustered, is Market Street. You're aimed over Union Square, north of which is Chinatown, and then Nob Hill and its famous hotels. The colorful, clanging cable cars operate in the general area you're flying toward, with one of the terminals at the foot of Market Street.
The patch of green in the bay north of the Bay Bridge (short for the San Francisco-Oakland Bay Bridge) is Treasure Island, a naval station. Just opposite Treasure Island is Fisherman's Wharf, the base for San Francisco's commercial fishing fleet, and famous too for its seafood restaurants. We'll see more of the wharf as we get closer.
Just before the Bay Bridge disappears off the right side of your screen, turn and fly toward it. You'll see that there's another island below Treasure Island and under the bridge. This is Yerba Buena Island, and Yerba Buena is what San Francisco was called when it was founded in 1776. The city originally consisted of a Spanish presidio, or fort, and a mission, both of which still stand today.
You can see the slips of Fisherman's Wharf beginning at the foot of Market Street.
Turn to fly a bit to the right of the bridge now, and back off your power to lose some altitude. Watch for Treasure Island to pass by out the left side window, then circle around to head over it and toward Fisherman's Wharf. Use radar to keep a check on your position and progress, and line up with the foot of Market Street.
Level off at 1000 feet. Be sure to take a look at the downtown buildings off to your right as you pass them. (Just look—don't touch.)
At some point you'll see the beautiful Golden Gate Bridge in the distance. When you're beyond the immediate building cluster, turn right and aim toward the far side of the bridge.
That's Mt. Tamalpais in the background, and just across the bridge is the continuation of the Golden Gate National Recreation Area, which begins on the San Francisco side.
When the bridge disappears off the bottom of your windshield, circle right and roll out on a heading of about 90 degrees, or whatever heading puts a little island in the center of your windshield. It's a famous little island—Alcatraz—once one of the most notorious of U.S. prisons, and home sweet home for Al Capone, Machine Gun Kelly, and Burt Lancaster, when he starred as Robert Stroud, the "Birdman of Alcatraz." The prison is abandoned now, and tours of it depart by ferry near Fisherman's Wharf.
Now point for the San Francisco side of the Bay Bridge, and make one more pass of Fisherman's Wharf.
Meanwhile, tune your NAV to San Jose VOR, 114.1, and after you pass over the bridge, start a climb to 2000 feet and take up the heading indicated by your OBI needle, which likely is within a degree or so of 124 degrees.
Take a look at the runways of Nimitz Field out the left side window as you go.
After the disk access, you'll see Metropolitan Oakland International Airport out the same side, with one of its strips (11/29) looking as if it's floating in the bay; of course, it isn't, as another disk access in a moment will show you. That's a pretty airport, and we'll fly there one day soon.
Out front now is the San Mateo-Hayward Bridge, and as you get close to it, you'll probably spot Hayward Air Terminal out your left window.
The next airstrip checkpoint is San Carlos, to your right. Just this side of it is Marine World Africa U.S.A., on the edge of the water.
There'll likely be two disk accesses in a row, then Dumbarton Bridge materializes off to the right of your windshield, with Hetch Hetchy Aqueduct nicely simulated just south of it (the black line). You will always be able to identify Dumbarton Bridge, thanks to the companion aqueduct, which reaches east all the way to Yosemite National Park and the Hetch Hetchy Reservoir.
Just south of Hetch Hetchy, and visible out the right side window, is Palo Alto Airport. Then, the last airport checkpoint as you head home is Moffett Field Naval Air Station, with its parallel runways, off to your right.
However, you can already make out San Jose Municipal Airport ahead and even the county fairgrounds beyond it. The ease of distinguishing your home airport so far out is one more reason I think you'll want to adopt it as your own.
The two streams you see are Coyote Creek (on the left) and the Guadalupe River. The metropolitan area to your right is Santa Clara, and the highway is U.S. 101. Remember that U.S. 101 tracks the western shoreline of San Francisco Bay and leads directly—if you were to follow it north—to four major area airports. In order, the airports are Moffett NAS, Palo Alto, San Carlos, and San Francisco International. When you really get to know this area, you will rarely unfold your chart.
Just before the Guadalupe slips away under your nose, you'll pass over the outer marker of the San Jose ILS. You'll know when, because it'll beep away at you even though you're not tuned to the ILS frequency (which can be kind of annoying, but you have no way to shut it off). Your engine sound—but not, fortunately, your engine—stops, and you might think you're in a Pause configuration. But you're not, and your airplane is still flying, so you keep flying, too.
This is a good point to make the transition to slowflight for your approach, which will be straight in for Runway 12L. Remember, that's the second-largest runway, and the left-most of the three parallel strips. The middle and largest, 12R, is used by the big planes and also for ILS approaches by all planes. The smallest strip (the farthest right when approaching from this direction) is Runway 11, unlighted at night and thus just for small planes operating in daylight hours. We'll land on both Runways 11 and 12R before we're finished with our Bay Area overview.
There'll be a disk access as you approach, and the runways will look like buildings until they take on some specific dimension. But they're all there is on this side of the highway, U.S.17, which stretches across your windshield.
The first approach one makes to any strip, particularly in the simulator, is unlikely to be the best. Distances are difficult to judge, and the chances of overshooting—or undershooting and having to drag it in—are high. When you've made a number of approaches and landings, under differing conditions, you'll know more precisely how to line up, and when and how fast to let down. That's another beautiful aspect of having a specific airport to come back to.
The middle marker squawker will further rouse you from your somnolence. Just for reference, right at this moment my altitude is 500 feet, my heading is 122 degrees, and—visually, at least—I'm lined up on the money.
I'm extending all my flaps.

Here on the ground, I was a bit to the right of Runway 11 and had to correct rather abruptly to the left. But that's the kind of illusions simulator runways give you. When I said I was on the money a couple of paragraphs ago, that was the truth, as far as I could see. But when I got a bit closer, the perspective shifted to the left. One thing, however, is for sure: Runway 11 bears exactly 122 degrees. You can always check things like this by reference to radar: Taxi to the center of the strip in question, then seesaw if you have to until the runway and its centerline form perfectly straight lines. The heading you read out then is the true compass heading of the runway.
Table of Contents | Previous Chapter | Next Chapter